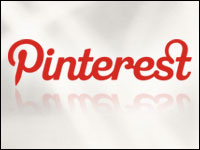 Pinterest on Monday announced new features and relationships with brands that will bring more functionality to its pins. The features, according to the social bookmarking company, will make the pins more "useful."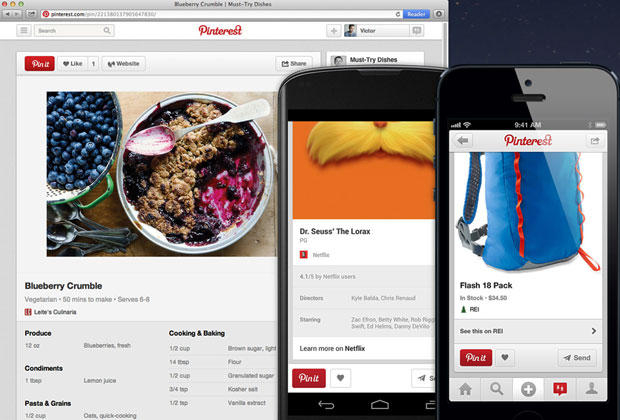 Pinterest Adds More Info to Pins
Pinterest introduced its new features in a Monday blog post. Pins now show more information, so users have more than photos to help them determine interest. Product pins for clothing, furniture and other goods will include pricing, availability and information on where to buy the items. This information will be updated daily.
Pinterest also added enhanced recipe pins that include details such as cooking time, ingredients and servings. Movie pins include content ratings, cast members and more details. An icon below pictures will identify those added details, which won't add clutter to pins.
Brands and content partners provide updates to each of the new recipe, product and movie pins. Pinterest announced early partnerships with brands such as Anthropology, eBay, Etsy, Home Depot, Sephora, Shopify Shops, Sony, Target, Walmart and Zulily. Recipe partners include 101 Cookbooks, Better Homes and Gardens, Bon Appetit, Chobani, Martha Stewart Living, Real Simple, and food blog The Kitchn.
Film content will be provided by brand partnerships with Flixter, Netflix and Rotten Tomatoes.
Pinterest also added a pin button in nine apps from Behance, Brit+Co, Etsy, Fotopedia, Jetsetter, Modcloth, Snapguide, TED, The North Face and Zulily.
Pinterest did not respond to requests for more details.
Pinning Brands
"The cool thing is that they've announced the partnerships with corporate sponsors," said Ted Nguyen of Ted Nguyen USA. This is just going to be the first wave for more brands to utilize Pinterest. And it really represents to the consumer not just ease of browsing, but shopping. If anything, it's going to make the experience richer, but also more fulfilling."
For consumers, the changes represent "more relevant information beyond just clicks and images," Nguyen told the E-Commerce Times.
Agencies are able to tap into the richer pins and updates for their brands.
"We're excited about the changes happening on Pinterest," Lauren Amsterdam, founder of the branding agency Amsterland, told the E-Commerce Times. "Rich pins for business is the logical commercial step for Pinterest, allowing users to see more content and tips, even prices and stock, making the path from preview to purchase shorter and simpler."
Analytics will also change the way businesses and agencies use Pinterest, she added. "The new Pin It button for mobile apps is continuing to extend Pinterest into the handheld space and also gives them a stronger foothold in the fastest growing digital market segment."
Live Updates
Through the brand relationships, Pinterest gains a feed to update information and keep pins up to date.
"Other sites and consumers that carry this content will be sharing pins, pins of pins over time, of the same image or photo," said Nguyen. "When people click onto those images, most of them are broken. There's nothing more frustrating to consumers than broken links. With Pinterest's latest news, the integration with more brands and retailers, from fashion to cooking to films, really represents a marked response to what their CEO terms 'actionable items.'"
Pinterest Powerhouse
"Pinterest is one of the highest referring sites for traffic," Carly Rowe, cofounder of TwentyNine Thirty Creative told the E-Commerce Times. "They're making it easier for big brands and making it easier for users to pin to their boards."
Those traffic referral numbers are what make Pinterest attractive to brands.
"Everybody's been talking about the Tumblr acquisition by Yahoo," Nguyen said. "Pinterest has far greater numbers of clicks. Traffic that's generated by Pinterest is second only to Twitter. Though [the Tumblr acquisition] is great, the bigger story is the changes to Pinterest."
Brand will put those changes to immediate use.
"We've been building our clients' brands on Pinterest," Amsterdam said, "and look forward to growing our clients' businesses with the platform."