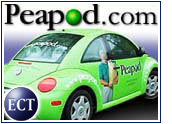 Online grocer Peapod (Nasdaq: PPOD) stopped servicing the San Francisco market on Sunday, transferring its customer base to onetime rival Webvan (Nasdaq: WBVN).
Peapod said it will turn its attention to its core markets in the Eastern U.S., where its majority owner Royal Ahold has a strong brick-and-mortar grocery store presence.
The message on Peapod's Web site says that leaving the San Francisco market is "part of a larger business strategy" the company is pursuing through its partnership with Ahold, the Dutch grocery giant that rescued Peapod from the brink of bankruptcy last year.
Closer to Home
Last month, Ahold provided Peapod with another US$30 million just weeks after Peapod said it was destined to run out of money by year's end at current cash burn rates.
Ahold had already purchased a controlling stake in Peapod for $73 million and extended a $20 million line of credit.
Victory for Webvan
The decision by Peapod gives Webvan a major boost in what is one of its core markets. It also leaves Chicago as the only major market where Peapod and Webvan compete head-to-head.
Webvan itself has cut back on ambitious expansion plans in the face of the Nasdaq plunge. Webvan left the Dallas, Texas market in February as it cut 220 jobs in a bid to conserve capital.
Time for TV
But in a sign that it may not be giving up on a larger presence nationwide, Webvan recently launched a television advertising campaign in all nine cities that it serves, the majority of which are on the West Coast. According to Webvan, the campaign will focus on busy parents and is designed to show them how they can find more time for family by using the home-replenishment service.
Word of the campaign surprised some analysts, who note that Webvan stock has plummeted more than 95 percent in the past year and that the company faces the prospect of being de-listed from the Nasdaq exchange.
"We have an aggressive, integrated marketing plan," said Webvan vice president for marketing Doug Herrington. "We are focused on households with kids and communicating how Webvan.com can give them back their precious time."
Peapod's Markets
As for Peapod, the struggling e-tailer has already quit markets in Texas and Ohio.
The decision to exit San Francisco leaves Peapod with seven markets, most located along the Eastern seaboard. In addition to Chicago, Peapod now services Washington, D.C.; Boston, Massachusetts; Fairfield County, Connecticut; Montgomery County, Maryland; Fairfax County, Virginia; and Long Island, New York.
Peapod recently acquired some assets of now-defunct Net delivery service Streamline.com. Additionally, Peapod entered the Chicago market — where it says it is reaching profitability — by purchasing Scotty's Home Delivery.