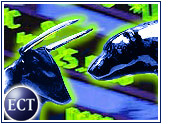 PayPal has announced that New York state regulators have determined it is not operating as an illegal bank, marking the latest in a series of regulatory hurdles cleared by the online payment company.
After reviewing PayPal's business model, the New York Banking Department also encouraged PayPal to apply for a license to act as a money transfer agent in the state. The company said it would do so by the end of the month.
The New York victory is an important one for PayPal, which transacted nearly 7 percent of its business with that state's residents last year. However, it is far from the last word on whether PayPal, which is a temporary custodian of fund transfers and provides an option to receive interest on some funds, constitutes a banking operation.
More To Come
The Federal Deposit Insurance Corporation (FDIC) has already issued an opinion that PayPal is not a bank, while regulators in California, Idaho and other states reportedly are still investigating exactly what type of business PayPal is.
"Investors hadn't let regulatory hurdles throw water on their interest in PayPal at all," Morningstar.com analyst George Nichols told the E-Commerce Times. "It looks like they're starting to put some of those issues behind them."
Strong Second
Meanwhile, PayPal said it will "meet or slightly exceed" its earlier estimates of second-quarter financial performance.
The company said it now expects revenue of US$53 million to $54 million, up from its initial guidance of $52 million to $53 million provided in mid-April. On a pretax basis, PayPal expects either to break even or to report earnings of up to 5 cents per share. In addition, after one-time charges, including termination of a lease on its former headquarters, the company said it will report net earnings of up to $5.8 million.
PayPal noted that total payment volume for the quarter could be as high as $1.63 billion.
Nichols said PayPal's fundamentals remain "fabulous," adding that the firm appears able to sustain its customer growth and dominant market position going forward.
Delayed Impact
But neither of those welcome developments was enough to counter the effect of news that early investors and company founders plan to sell an additional 6 million shares of stock.
Hoping to take advantage of the strong run PayPal has had since it broke the IPO barrier earlier this year, those investors plan to sell shares after the expiration of the so-called lockup period following the offering.
That announcement helped drive PayPal shares down 7 percent to $23.65 in trading Wednesday. The stock continued to slide early Thursday, falling to $22.49 by mid-morning.
Nichols said the impact of the additional shares will be significant. Until recently, the number of shares in the public "float" has been fairly small because many insiders have been prevented from trading shares publicly.