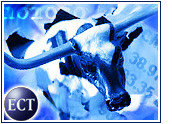 Going public has paid off for PayPal. The online payment firm reported a profit during its debut quarter as a publicly traded company on revenue that more than tripled since the year-ago period.
PayPal said revenue for the quarter totaled US$48 million, up 248 percent from the $14 million it recorded a year ago. The company earned a profit of $1.2 million in the first quarter, compared with a $29 million loss in 2001, beating analysts' expectations on a per-share basis.
PayPal's outlook for the rest of the year is equally upbeat. The company raised its forecast for the third quarter and for all of 2002, saying it could see sales of up to $53 million in the current quarter and $230 million for the year.
"A lot of hard work remains," PayPal CEO Peter Thiel said in a conference call. "And some continued good luck wouldn't hurt either."
Growth Hormones
Morningstar.com analyst George Nichols told the E-Commerce Times that what is most impressive about PayPal's growth trajectory is how little it has spent on advertising, relying instead on a viral marketing model to bring new users into the fold.
"Hordes of people and small businesses continue to sign up," Nichols said. "Rather than blowing money on naming sports stadiums or buying Super Bowl ads, management has allocated resources wisely."
And growth is what will help drive PayPal's continued profitability, Nichols noted. The company said it added an average of 28,000 new accounts every day during the first quarter and grew its overseas accounts to 1.3 million.
"Most dot-com companies this young are growing much slower and burning cash," Nichols said. "Over the long term, I expect the firm to fare well despite regulatory threats and challenges from eBay."
Addressing Rumors
As for eBay, the auction giant whose members provide PayPal with a large portion of its business, Thiel addressed rumors of a possible merger, which sent PayPal stock soaring to record levels during the week leading up to the earnings release.
"Obviously, [the] two companies share quite a few customers, and there could be some interesting synergies," Thiel said. "PayPal at the same time is a standalone business that makes sense and quite a bit of money as a standalone business. In the end, we will always do what makes most sense for our shareholders."
PayPal also emphasized a plan to diversify its offerings and move away from its reliance on auction listings.
Company chief financial officer Roelof Botha said payments for non-auction sales, such as fixed-price items and sale of services, rose 31 percent in the quarter, compared with 16 percent growth for auction sales. Auction payments accounted for 61 percent of all sales, down from 64 percent in the previous quarter.
Thiel noted that PayPal also has established a development network to help foster additional e-commerce applications of its payment system.
To accommodate growth, PayPal said it will move its headquarters from Palo Alto, California, to nearby Mountain View and willopen a Nebraska facility to help accommodate 150 new workers, mostly in the customer service area, that it plans to hire this year.
Cooling Off?
On a per-share basis, PayPal earned 4 cents in the quarter, beating the consensus estimate of 2 cents. For the year, the company said, it could post profits of 34 to 36 cents per share.
Despite the good news and upbeat outlook, Nichols said he wonders whether PayPal stock is overachieving. The stock, which went public at $12 in February, crossed the $26 level earlier this week.
"The stock is due for a cooling-off period," Nichols said. As the post-IPO lockup period expires, many insiders will become eligible to sell, he noted, potentially pressuring shares.
Investors' immediate response to the earnings report, however, was to push PayPal even higher. In early trading Thursday, the company's shares rose 3 percent to $26.20.