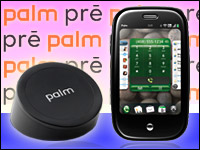 Depending on which technology blog you read, Sprint CEO Dan Hesse is either engaging in pre-Palm Pre marketing hype or covering up some major smartphone production problems.
Hesse told an industry conference audience earlier this week that he expected shortages "for a while" when the Pre launches at retail June 6, according to a Dow Jones report. He credited early demand for the company's decision to forgo a major advertising campaign focused on the upcoming Palm touchscreen smartphone.
That news, coupled with a Thursday blog post on the Boy Genius Report — which cited Best Buy and Radio Shack sources as saying most of their stores may be getting a grand total of two to four Pre handsets per outlet nationwide — has analysts and tech blogosphere denizens wondering if Sprint and Hesse, along with Palm, are playing a dangerous supply-and-demand game. Palm is first out of the gate in what is expected to be a very competitive smartphone summer.
Earlier this week, Sprint and Palm announced the price and launch date for the Pre: US$199 (after a $100 rebate) on June 6, just days before Apple begins its Worldwide Developers Conference, where it may take the wraps off of a new iPhone model.
A Sprint spokesperson would not address questions about possible supply chain or production problems, but he did say that the company is "excited" by the response to the new smartphone.
"It is likely that initially we won't be able to keep up with the demand for the device," Mark Elliott, Sprint communications manager for wireless devices, told the E-Commerce Times. "If that occurs, we will work diligently to ensure that everyone who wants a Pre can get one as soon as possible."
The Analyst Pre-View
It's hard to believe that Palm — in light of the buildup of interest in the Pre and what's at stake for the company if it doesn't execute — wouldn't have enough phones on hand for those who want them, said Kevin Burden, mobile devices analyst for ABI Research.
"They wouldn't launch it on June 6 unless they knew the device was ready in terms of functionality, but also that the supply for the device was actually ready," Burden told the E-Commerce Times.
"That's not to say that Palm doesn't have a history of mismanaging inventory," he noted, "but it's usually been the other way around — typically too many devices, or too many units of one device in particular. This is a little bit different. This is about everything predicated on the successful launch of the Pre product. If they are not ready to deliver in volume, they would have done a lot better job to delay it."
There will be enough Pre devices to fill the hands of those in the market for the newest, coolest smartphone, both Burden and IDC analyst Ramon Llamas believe — provided, that is, Palm and Sprint deliver on the coolness factor.
The more important question, according to Llamas, involves sales over the long run.
"If you take a look at the G1 from T-Mobile, or the BlackBerry Storm and Bold [from Research In Motion], these are three devices that did not get a whole lot of press or attention, at least in terms of marketing and ad campaigns," Llamas told the E-Commerce Times. "But guess what? They sold pretty darn well" since their launches in the last half of 2008. Analyst estimates range from 700,000 to 1 million units sold for each smartphone.
"We're losing sight of the big picture here," Llamas said. "Whatever's going to be sold initially is what it is. The more important point is, how is this device going to do over time?"
The Best Buy Worst-Case Scenario
Picture a Best Buy customer walking into one of the big box stores clutching $200 for a Palm Pre, only to be told there's a waiting list. Nearby is the sleek new BlackBerry smartphone, with a blue-shirted store employee more than willing to pitch its features in an effort to separate that customer from that $200.
"I find it hard to believe that Palm would allow that to happen," Burden said. "There's too much riding on a successful launch right out of the gate. What they don't want is bad press. There is such a thing that no press is bad press, but come on. That [shortage] would raise questions about Palm support for the device in the long run. Palm needs to show its strength, and that it has funding for a killer device."
Best Buy and Radio Shack have announced they will handle the $100 rebate for the Pre at checkout, removing one more obstacle in a consumer's path to a purchasing decision. It also highlights the greater role outlets like Best Buy and Wal-Mart (also selling the Pre) are playing in mobile phone sales, Llamas said.
"People are looking at consumer electronics stores for mobile devices, specifically mobile phones. The salespeople have gotten knowledgeable about the different plans and devices. People go to a Sprint store for one thing — a mobile phone. People go to Best Buy for not just one device — maybe a big-screen TV — but will also go for a game for their Xbox or Wii, and then look around for other devices. Sprint needs to have a presence at Best Buy."
Then there's the Dan Hesse factor to consider.
"Out of all the other CEOs out there of the Big Four carriers, he's probably the most visible and recognizable," Llamas said, referring to Hesse being front and center in most of Sprint's low-key ads, speaking directly to the camera. "In every one of his ads, he comes across as a shoot-from-the-hip kind of guy. When you see that, you can take it with a grain of salt, but you may think, 'This guy hasn't really tried to pull the wool over our eyes before.'
"Hesse saying there's going to be a shortage? Whether or not that's true, I think there's going to be enough on hand to satisfy the people who really, really, really want one," Llamas said.