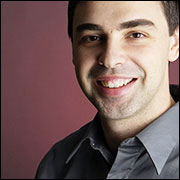 Larry Page took the wheel as Google's CEO this week, and he's already shaking things up. On Thursday, Page placed key executives in charge of individual business units, according to the Los Angeles Times. Page indicated he wanted to simplify product and engineering structures with one executive leading each functional group.The new SVPs will report directly to him.
A memo leaked to Business Insider shed more light on the changes. The memo spelled out how all Google employee bonuses will be calculated based on company performance in strategic relationships, sharing, and identity across Google products. This is a testament to the growing power and importance of social media in the technology world.
Monday was Page's first day on the job as CEO after Eric Schmidt stepped down to become executive chairman. Page founded Google in 1998 along with Sergey Brin. The two were co-presidents until 2001 when Schmidt was hired as CEO to be the adult in the room. Since then, the kids grew up.
The reported promotions: Andy Rubin, senior vice president of mobile; Vic Gundotra, SVP of social; Sundar Pichai, SVP of Chrome; Salar Kamangaris, SVP of YouTube and video; Alan Eustace, SVP of search; and Susan Wojcicki, SVP of ads.
Google did not respond to the E-Commerce Times' request for comments by press time.
Google's Next Stage of Evolution
This restructuring creates a team of group leaders.
"Google absolutely needed a reorganization of this nature," Azita Arvani, principal of the Arvani Group, told the E-Commerce Times. "The company was too big to run in a loosely structured way, with experiments running all over and little accountability."
Page needs to order Google's management while keeping the innovation flowing.
"The management style is transforming from running Google like a research lab under Eric Schmidt to running a tighter ship, closer to Steve Jobs' style," said Arvani. "Of course, the pendulum swing will have to be adjusted over time to make sure the spirit of free experimentation is not squashed."
Page is like a general prepping his army for trials and tribulations.
"Google had to take a drastic action, because the company is going through maturity stages and needs some accountability over its major priorities," said Arvani, "but more importantly, because its cash cow of search is being attacked by the growing power of Facebook. That is why Larry Page is reportedly making everyone accountable for the success of the company's social endeavors, by tying their bonuses to the social efforts."
The next stage of Google is designed for coherence.
"The new organization should provide much needed focus, faster decision making, and accountability across the company," said Arvani. "The challenge is to make sure the organization doesn't get too structured — such that future innovations would have a hard time finding a fertile ground to flourish."
Social Media Takes On New Importance
Google seems to be getting aggressive about social media.
"I think there's a bit more focus on finding the right balance between freedom and accountability, and more focus on streamlining," technology project manager and Geek 2.0 blogger Steven Savage told the E-Commerce Times. "This isn't particularly surprising. Expect a heavy move to social and integration — even if it's subtle. That's clearly the goal, and people are going to be held accountable.
The changes are designed for long-run sturdiness.
"I think this herald's Google's continuing evolution as a kind of modular ecosystem — many services and ventures that stand on their own, yet can tie into each other," said Savage. YouTube's changes to channels already fit this strategy — it's evolving further and further into its own thing, yet is still tied to Google. What you want to look for is how Google evolves long-term, and I think that's up in the air. Tentatively, I think this is an attempt to set the right long-term balance and organizational structure."
The time is right to rearrange Google's executive leadership.
"These changes will be between neutral and good for Google," said Savage. "Google has needed a bit of a shake-up, a bit of streamlining, a bit of rethinking. It's a great company doing great things, but I think the pace of development and improvement hasn't always been smooth."
Google has a knack for managing change and innovation.
"Psychologically? I think that's where you see the real benefits," said Savage. "The impression I get is people are pumped and energized. I find Google thrives on change and challenge. Expect the inevitable Apple/Steve Jobs comparisons. These won't always be justified, but that doesn't mean we're not going to hear them until we're sick of them."