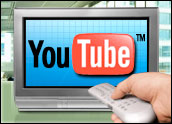 Flick through your TV guide — soon enough you'll find 20 new YouTube channels. That's a lot of laughing babies.
Google is planning to spend as much as US$100 million to produce 20 new YouTube channels offering a combination of original new Internet-only content and content already on the site, according to a Wall Street Journal article.
Google wants to put itself in a strategic position to take advantage of the rise of Internet-connected TVs in order to get into the $70 billion U.S. television ad market. Changes to the YouTube home page would highlight the new ad-supported channels. The channels will gather videos from specific topics such as sports or comedy.
Google apparently wants to use YouTube to build a large streaming audience worthy of attracting ad dollars. Netflix, Hulu and Amazon are gaining steam in their efforts to attract TV viewers.
It also wants to hook YouTube viewers for longer periods of time; Internet studies have shown that users only stay on the site for an average of 15 minutes a day.
Google did not respond to the E-Commerce Times' request for comments by press time.
A Thousand Directions at Once
Google has tried its hand at a bewildering range of Internet services.
"Is there anything Google is not doing?" asked Laura DiDio, principal analyst at ITIC. "Is there any industry they're not trying to enter? They're not adding 10,000 jobs for nothing. Good for them. When you do all this, at what point do you reach saturation? They're not near it yet. They're obviously a company that's on the move. They don't stand still for a moment. In this market you can't stand still."
The technology market forces companies to innovate aggressively — and constantly.
"The high-tech industry has always moved faster than other industries, but in the last year, the pace has really picked up," said DiDio. "The mergers and acquisitions have really picked up. The advertising has picked up. The speed with which companies are introducing new products has increased."
The success of YouTube's new channels will depend on Google's ability to attract a large audience consistently. Online videos can spread like wildfire or get lost completely.
"They could get traction with this, but it depends on the programming," said DiDio. "Everybody is looking for something that will go viral like the cute babies. The success of YouTube programming will depend on word of mouth. They could get enormous buzz right away or a collective shrug of the shoulders. One or two pieces of good programming would give them good buzz."
Wringing More Profit Out of YouTube
YouTube is very popular, but Google is looking to turn a better profit from its investment.
"They've had YouTube for a while," Roger Kay, founder and principle of Endpoint Technologies, told the E-Commerce Times. "It's a good advertising vehicle, but they would like to get revenue from the content. It's mostly amateur, but there is some pro stuff mixed in."
YouTube has a wealth of content in its cache and has aligned itself with many talented video producers by making them "YouTube Partners."
"When Google bought YouTube, they bought a channel where they can harvest content," said Kay. "There was always this question of the quality. Now they want to create professional content. If you have better stuff, you can charge for it. That's a big gamble. The content owners — movie stars and studios are pretty expensive."