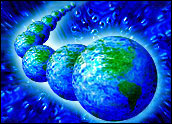 Legions of Oprah Winfrey fans will have access to the talk show megastar 24/7 on "OWN: The Oprah Winfrey Network," Winfrey and Discovery Communications President and CEO David Zaslav announced Tuesday. The joint venture will enable Discovery to repurpose its less-than-successful Discovery Health channel with Oprah's brand.
"Fifteen years ago, I wrote in my journal that one day I would create a television network, as I always felt my show was just the beginning of what the future could hold," said Winfrey.
"For me, the launch of 'The Oprah Winfrey Network' is the evolution of the work I've been doing on television all these years and a natural extension of my show," she added.
Queen of All Media
OWN joins Winfrey's other media ventures, including O, The Oprah Magazine, the "Oprah & Friends" XM Satellite radio channel and her Harpo production company. The channel will debut in 2009 in more than 70 million homes and be simulcast in high definition, the company said. Oprah.com, the talk show host's award-winning site that garners some 6 million unique hits and 80 million page views per month, is also included in the deal.
In the 50-50 partnership, Winfrey will serve as OWN's chairperson and have full editorial control, something the media mogul lacked as a financial backer of the Oxygen Network. Financial terms — except that the deal was a cashless transaction — were not released. She will also be responsible for the programming, branding and creative vision of the channel.
The channel's mission is to inspire, entertain and empower viewers to live their best lives by creating multiple platforms for women, men and their families to lift both their own lives and those of others around them in an ever-widening circle, Discovery said.
HARPO To Produce
Although Winfrey's contract with King World Productions, the CBS-owned syndicator of her talk show, does not expire until the 2010-11 season — thus preventing any airing of the "Oprah Winfrey Show" or its reruns on OWN — Winfrey said viewers can expect content produced by Harpo.
"Harpo will be contributing programming for OWN and at the same time will continue to produce programming for syndication and for prime time," Winfrey said.
"We have exclusivity deals with all of our affiliates throughout the country, and the contract runs through May 2011. Eventually, that will happen, we hope," she added.
Discovery and Winfrey are currently in the hunt for the "right CEO" and have not decided whether the network will be based in Chicago.
"Our first step is to get a world-class CEO that understands Oprah's vision and the brand, and can deliver on it on a 24-hour channel and build on what is already a very successful dot-com business. We'll start from there and then figure out where we're going to put it," Zaslav said.