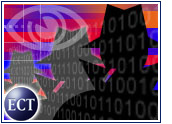 Despite widespread consumer fears about online credit card fraud, the No. 1 scam on the Internet is Web auction fraud, according to a report released Tuesday by the U.S. Federal Bureau of Investigation (FBI) and the National White Collar Crime Center.
Internet auction fraud was the problem in 64 percent of the complaints filed with the government's Internet Fraud Complaint Center. Credit card and debit card fraud counted for just under 5 percent of the complaints.
"Victims of crime, whether it be Internet fraud or other crimes, are using the Internet as a reporting tool," FBI Director Louis J. Freeh said. "Now critical investigative information can be shared with our law enforcement colleagues around the country in a readily retrievable way."
The FBI report, which looked at complaints logged by the Center from May to November 2000, said that the total dollar loss for all complaints exceeded US$12.3 million.
Fighting Net Fraud
During its first six months of operation, the Center logged 20,014 complaints and referred 6,087 to law enforcement agencies around the country for future action. Of those, 5,273 involved online auction fraud.
The average dollar amount of Internet fraud cases referred to law enforcement was $255 and the total dollar amount of all Internet fraud cases was $4.6 million over the six month period. The largest dollar loss reported was $366,248.
"E-business is no longer just a buzzword," said Texas state securities commissioner Denise Voigt Crawford, board member of the National White Collar Crime Center. "It's here to stay and we must find ways to help consumers and businesses have confidence in the transaction technology they choose."
Packaged Losses
Notably, over 17 percent of referred cases involved losses of $1,000 or more. The FBI also said that nearly one-third of all losses were under $100 and two-thirds of complainants lost under $500.
Another common complaint came from people who ordered and paid for merchandise online, but did not receive what they ordered. Twenty-two percent of the complaints fell into that category.
While investment fraud was the problem for just over 1 percent of the fraud victims, those bilked by phony investments scams lost the most money, posting an average loss of $500.
California Con
The FBI reported that California was the hot spot for Internet fraud, with most of the con artists — and most of the victims — being from the state.
The Internet Fraud Complaint Center found that 17.3 percent of individual perpetrators and 19.8 percent of business perpetrators were operating in California. Likewise, 15.4 percent of individual complainants and 15.8 percent of business complainants also hailed from the Golden State.
Other states with high concentrations of dot-con artists and victims were Florida and New York.
Victim Profile
The report found that the typical victim reporting a complaint "tends to be a male, in his mid-30s, residing in one of the more populated U.S. states, and was involved in a fraudulent online auction transaction that resulted in a loss of over $200."
However, the Internet Fraud Complaint Center stressed: "It is important to note that anyone is susceptible to falling prey to an Internet fraud."
Going, Going
The Internet Fraud Complaint Center is not the first agency to list auction fraud as the No. 1 online consumer complaint. In October, the U.S. Federal Trade Commission said that auction fraud topped the list of complaints received through its Consumer Sentinel database.
Additionally, in January, eMarketer released a report showing that auction fraud accounts for 87 percent of all online crime.