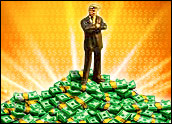 Internet advertising revenues reached record levels in the first half of 2006, with sales up some 37 percent over the same period last year, according to an industry group's latest check on the booming sector.
Web-based advertising sales reached US$7.9 billion in the first six months of this year, theInternet Advertising Bureau said. Online ad sales also passed the $4 billion mark in the second quarter for the first time ever, with sales reaching $4.1 billion, according to the report, which was prepared by IAB together with accounting and consulting housePricewaterhouseCoopers (PwC).
"This latest report is a clear indication that interactive is of increased importance to marketers today to engage their consumers and drive sales," said IAB CEO Greg Stuart. A number of trends — from the growth of broadband to the ability of advertisers to target an audience online to emerging technologies such as IPTV — have led to the boom in demand for Internet ads.
A shift in how online ad dollars are spent could be imminent, the report suggests, with the longtime dominance of search advertising continuing, but other alternatives starting to gain traction as well.
Gaining on Search
"While search advertising remains the largest format in terms of revenues, we expect to see new formats like video ads continue to emerge as advertisers seek to leverage the branding opportunities afforded by the growing installed base of broadband users," said David Silverman, a partner in PwC's Entertainment & Media Practice.
For now, search continues to dominate. In the first half of 2006, search advertising accounted for 40 percent of all Web-based marketing dollars spent, at $3.1 billion, up from $2.3 billion a year ago but holding at the same portion of overall spending.
Other segments gained in terms of portion of the total spend, with classified sales growing from 18 percent last year to 20 percent in the first half of 2006, or about $1.6 billion, and lead generation rising to 8 percent from 6 percent, with about $633 million in revenue.
Display-related advertising saw growth but lost share of the overall market, falling to 31 percent from 34 percent.
The report suggests a slight easing in how much of the online advertising market the top Web sites control, with the percentage of total revenue going to the top 10 companies dropping from 72 percent last year to 71 percent this year. The top 25 sites captured 84 percent of revenue, down from 87 percent last year, while the top 50 accounted for 94 percent of all sales, down from 96 percent.
Slowdown Coming?
There are some signs that the torrid growth pace may decline slightly, the report notes, which is not unexpected.
A separate report this week from eMarketer estimated that growth in online advertising for 2006 would be around 26.8 percent, putting full-year revenues at just under $16 billion. Slower growth would still allow spending to reach the $21 billion market by 2009 and $25 by 2010.
The slower growth rates may be portrayed as trouble for the industry, but the sector is as healthy as ever, said eMarketer senior analyst David Hallerman.
"Any other medium's executives would be delighted to see ad spending grow at those rates," he noted.
Some have already begun to wonder aloud about how much longer the roaring growth rates can be sustained, though. That type of speculation ramped up recently when Yahoo predicted slower growth in key advertising segments such as automotive and financial services ads.
Paid search ads, which have driven expansion in the market the past three years, will eventually give way to growth driven by rich-media ads such as video clips, according to Hallerman. He said rich-media ads will double their take of the online revenue pie to 18 percent by 2010.