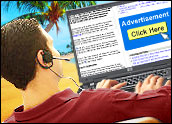 Online advertising continues to grow at a steady pace, with first quarter spending on Web-based advertising reaching a record level of US$4.9 billion.
That represents a 26 percent increase when compared with the first quarter of last year, when $3.8 billion was spent, the Interactive Advertising Bureau (IAB) said in a report prepared by that trade group and consulting firm PricewaterhouseCoopers.
The sequential growth rate was more modest, with ad spending in the first three months of 2007 climbing 2 percent when compared with the $4.8 billion in the fourth quarter of 2006. However, the last three months of the year are typically strong due to the inclusion of the holiday season and the first quarter is usually far more subdued, the IAB noted.
A Continued Climb Expected
Ad spending is likely to continue on its upward trajectory, said IAB President and CEO Randall Rothenberg.
"The ever-changing landscape of new platforms and technologies that enrich interactive advertising guarantees that this growth trend will continue," he said, adding that marketers are showing "increased comfort" with online advertising.
The continued double-digit year-over-year growth rates are "particularly impressive" because the online ad industry has grown so large, said Peter Petrusky, a director with PricewaterhouseCoopers. Looking forward, he said, continued growth in broadband Internet usage "could translate into more users spending more time online, and offers a platform for rich media and video ads that dial-up connections can't render."
The Google Engine
The report, which is based largely on spending by the top 15 online advertisers as well as other data sources, does not offer a category breakdown of where the nearly $5 billion was spent.
Already, though, it's clear that search advertising spending and in particular spending on Google ads remain the engine driving online advertising higher.
Paid search is "currently the key driver of U.S. online advertising as a whole," and in turn Google dominates that sector because it attracts more users and monetizes each user's clicks better than its rivals, eMarketer Senior Analyst David Hallerman told the E-Commerce Times. eMarketer recently estimated that more than 40 percent of total Internet ad spending is tied to search marketing.
Others sectors are expanding, however, and not surprisingly Google has a hand in them.
For instance, display ads are expected to expand 20 percent to nearly $4 billion this year, and Google recently increased its exposure to that market through its pending $3.1 billion purchase of the interactive ad agency DoubleClick.
Multimedia advertising, especially video ads, are also expected to grow exponentially in coming years, as is spending on advertising that leverages social networking sites and other Web 2.0-style online communities.
Higher Highs
Still, at least for now, search-based advertising will continue to be the area where most of the money will be aimed, Sterling Market Intelligence Principal Analyst Greg Sterling told the E-Commerce Times.
For instance, in 2006, search marketing's share of the total ad spending was down 1 percent from the year before, with the share of the spending going to display advertising rising.
"Keyword search and contextual ads are what marketers are comfortable with — they can measure it and know that it works," Sterling noted. "The growth is already starting to pick up across the other categories."
After soaring and then crashing along with the dot-coms, online ad spending has experienced almost uninterrupted increases since late 2002, IAB data show. Growth has accelerated in the past three years, even as the market has gotten larger.
The first quarter spending level of $4.9 billion outpaces the total online ad spending from 1999, at $4.6 billion. As recently as 1997, total Web advertising spending was less than $1 billion for the full year.