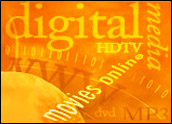 Internet TV — long hyped by Microsoft and other major computer industry players — has a new advocate. A non-profit corporation is developing a free, open source, Internet TV (IPTV) platform with funding from technology industry luminaries Mitch Kapor and Andy Rappaport. The organization, Worcester, Mass.-based Participatory Culture Foundation, and its Internet TV application, DTV, will deliver full-screen Internet TV to desktops.
"We've come out with a preview version of our DTV application — RSS, BitTorrent, VLC — for Mac OS X in August, with a PC version to follow thereafter," David Moore, a spokesman for the Participatory Culture Foundation, told the E-Commerce Times. "It gives viewers a TV-like experience watching video online, unlike almost anything that can be delivered in a Web browser. Users can browse and subscribe to any channel, like a free TiVo for Internet video."
Many Versions of IPTV
Commercial entities continue to eye Internet TV, too. The television playback technology developer, TiVo, is looking at Internet TV, and is testing a service that enables customers to download shows on their set-top box from the Internet — even before it's aired on regular TV.
The Independent Film Channel, on Aug. 12, signed a deal with TiVo to offer many of the channel's shows to TiVo customers in a trial project via broadband. Several of IFC's new fall shows like "Hopeless Pictures," "Greg the Bunny," and "The Festival" were seen by TiVo customers before their premiere.
More than a decade ago, an array of big carriers, like Deutsche Telekom, attempted, albeit unsuccessfully, to send television service over analog telephone lines, according to Laura Behrens, a media analyst at Gartner.
The open-source IPTV project, however, looks to be even more challenging, technologically.
"From our point of view, the important thing is that the emerging Internet TV landscape still has the potential to be free, non-commercial, and built on open standards," said Moore. "We're working to ensure that Internet TV is open and accessible, just like blogging and podcasting are. The days of proprietary video players are waning, as long as there are genuine alternatives for consumers that are free and open source."
Channel Guide
Some technology services are already available from the non-profit project. Along with a Mac beta, the foundation has launched the built-in DTV Channel Guide, which already features more than 100 internet TV channels — all free — with more to come. Producers of DTV-compatible channels can now submit channels to be included in the Internet TV guide. Producers who have an RSS feed with video enclosures are already compatible.
The beta version of DTV embeds QuickTime 7, so that any video that plays in QuickTime plays in DTV. DTV suppports standard HTTP downloads as well as BitTorrent.
The non-profit route to IPTV might be a good platform to see if the technology can succeed. TiVo went public in September 1999, but the company has yet to turn a profit. For the year ending January 31, 2005, the company posted a net loss of nearly US$80 million on sales of $172 million.
Others are still trying to make money, though. Microsoft partners, including BT Group, Telecom Italia, SBC Communications, and India's Reliance Infocomm are using DSL connections to add TV to their offerings, creating a much-hyped "triple play" of bundled voice, data and video services.