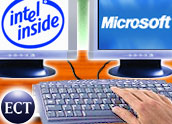 Joining forces in the hope of advancing a strategy both companies have been plotting for some time, Microsoft and Intel have said they will work together to promote cutting edge digital home entertainment options.
Dubbing the effort "Digital Joy," the companies said they would launch a television, print, online and cinema-based advertising campaign to highlight what they describe as "an emerging digital lifestyle" where computers and entertainment devices are merged into home entertainment networks.
The campaign, said to be valued at more than US$20 million, is timed to start on Sunday — as the holiday shopping season kicks into high gear — and will also involve "experience zones" in some three dozen U.S. retail malls in and near major cities, where their digital entertainment offerings can be test driven.
It marks the first time the two companies, partners for more than 20 years, have teamed on an advertising effort, an indication that the companies feel it's necessary to inform consumers about what the so-called "digital home" is.
"The significance of this campaign is that two leading technology brands have come together to create new entertainment possibilities for the PC within the digital home," Ann Lewnes, vice president of Intel's Sales and Marketing Group, said.
Raising Awareness
Microsoft corporate Vice President Tom Button said the companies want consumers to understand how PCs can help them get the most out of their entertainment experiences, from digital movies and music to photos and TV programs. "Microsoft and Intel share a common vision on how to deliver these benefits to consumers," Button said.
Rob Enderle, principal analyst at the Enderle Group, said Microsoft's ability to bring different companies together behind the media center PC has been key to advancing the digital home movement. He noted that Dell, Hewlett-Packard and others all make competing media center machines.
The next generation, where television and more movie content is available digitally, will evolve as content owners feel more comfortable that streaming won't mean piracy, he added.
"They are very concerned about theft and still working out how to price downloads for feature films," Enderle said.
At the center of the effort are the two companies' digital entertainment products, including the Windows XP Media Center Edition and Intel's Pentium 4 processors, which offer hyperthreading technology that allows multiple programs to be run without bogging computers down.
The TV ad campaign, developed by New York-based Deutsch Inc., is aimed at emphasizing the "joy" of using a single mouse click to control a range of digital content, the companies said. One spot features a chaotic scene of various digital media — home movies, Hollywood movies, sports programming and video games — that's brought to order by the home PC.
Long Time Coming
Attacking the home entertainment market has been a long-stated goal of both companies, but until now has been more of a future promise than a current reality. The companies might feel that they can begin selling home entertainment as the killer application needed to light a fire under PC sales heading into the Christmas season, analysts say.
Forrester Research analyst Ted Schadler said that while technology companies have been building the foundation that enables the digital home experience, consumers have gradually begun using their PCs more and more for non-work purposes.
"The more people send pictures and download music, the more comfortable they'll be taking the next steps," Schadler said.
The Intel and Microsoft push might also be aimed at being first to widely tout the technology, even if it means doing so while features such as streaming TV are still not widely available. Getting there first is important, Schadler added, because cable companies and makers of electronic devices, such as digital video recorders, are starting to build in digital networking functions themselves.