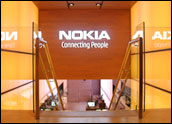 When he tried to log on to Nokia's new Ovi app store Tuesday, ABI Research senior analyst Jeff Orr found a lot of blank screens.
"They either got off to a wild success because everybody's trying it, or more likely, there are some bugs along the way," Orr said.
The Finnish mobile phone giant made it official later Tuesday morning: The shaky global launch of its answer to Apple's App Store and the Android Market was the result of both success and bugs — but mostly bugs.
"Shortly after launching the Ovi Store at 2 a.m. ET, we began experiencing extraordinarily high spikes of traffic that resulted in some performance issues for users accessing store.ovi.com and store.ovi.mobi," Ovi team member Eric John wrote on the Ovi Blog. "We immediately began to address this issue by adding servers, which resulted in intermittent performance improvements. We apologize for any inconvenience this may have caused Ovi Store users and encourage you to continue giving us feedback as we develop the service further."
No feedback encouragement was needed on major tech blogs and news Web sites, as they translated "intermittent performance improvements" into phrases like "complete disaster," "rocky start" and "turbulent start." It wasn't just technical issues, either; some reports blasted Nokia for a lack of diversity and depth in the app offerings, especially among business and social media alternatives. The U.S. market will also have to wait while parts of Europe, Asia and Australia get first crack at the store. AT&T has announced it will host the Ovi Store domestically, but it provided no specific launch date.
App Stores Easier Planned Than Done
The problems with the Ovi Store highlight just how difficult it can be to set up an applications marketplace for your smartphone, even if your name is "Nokia," you have a huge global footprint and you've already spent a lot of time and money developing relationships with app developers worldwide.
The fact that Nokia launched in a spotlight, with obvious comparisons to Apple's App Store for its iPhone and iPod touch, has to be considered, Orr told the E-Commerce Times. "They (Nokia) certainly have a very big task. Apple has a closed ecosystem, with one phone device and one non-phone device that have to be supported. Nokia has fifty-plus models of handsets. It's a much more complex environment.
"I don't know if it's a complete disaster," he added. "There's a certain amount of tolerance that mobile consumers will accept. There are not too many choices in terms of alternatives, and there is pent-up demand. I'm not too concerned about the state of their store today."
There's a lot of brand appeal in key demographics for Nokia's products, Orr said, citing ABI research on U.S. mobile phone use. It suggests there's an opportunity for the handset company to make a big splash in Apple's and Research In Motion's backyard. The key will be making sure that AT&T opens its branch of the Ovi Store soon — "by the holiday season, hopefully" — as well as continuing to unify its applications development and distribution strategies.
"Their next step is being the evangelist. The developers are the ones who have to be motivated first — their developer networks are already in place. They're completing the acquisition of Symbian, from an operating system perspective, and now putting that into open source. There are already tens of thousands of apps supported on Nokia devices, even thought they're not on the Ovi Store. There's some catching up to do there."
The Key US Market
The smartphone and mobile app gold rush is still in its early days, but positioning an app store now — with the Android Market gaining steam, RIM's new BlackBerry App World catching on, and Palm's webOS App Catalog coming soon — is key.
"You have to have an attractive platform that people are willing to develop interesting and exciting apps for," Al Hilwa, IDC application development software analyst, told the E-Commerce Times. "That must be paramount in Nokia's mind and everybody else's mind." It will go a long way toward cooling criticism of the quality of apps now being directed at Nokia, he said — not enough enterprise-focused programs, too many ringtones.
"When you think about those galleries and directories, they're all about reaching end-users — but at the end of the day, the key is having a diversity of applications and an excited developer base. That's what the problem is today: You've got seven different platforms competing for developers. How do you support Android, the Palm Pre, the iPhone? You've got a lot of competitors for developer mindshare."
Nokia will eventually iron out its problems, in Hilwa's view, but it needs to have a formidable app store by the time the U.S. version launches. The platform duels going on right now will determine how we use our smartphones over the next few years as potential replacements for notebook computers, and the U.S. early-adopter consumer will help companies make those decisions.
"That's a very important battle," Hilwa said. "Nokia has to do a better job appealing to the U.S. market. That's largely a function of forging the right carrier relationships, much like Apple has tried to do."