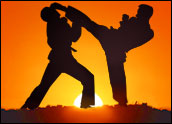 The battle between Nokia and Qualcomm hit a high note Thursday, just days before the licensing agreement between the two combatants is set to expire on Monday.
Nokia, the No. 1 maker of mobile phone handsets, announced that it had made a US$20 million payment to Qualcomm to cover second quarter 2007 licensing fees. Qualcomm, however, called the amount "nominal," and filled a demand for arbitration with the American Arbitration Association.
"As we continue to negotiate the new cross-license agreement, Nokia views this payment as fair and reasonable compensation for the use of relevant Qualcomm essential patents in Nokia UMTS handsets during the second quarter of 2007," said Rick Simonson, chief financial officer at Nokia.
"Nokia's announcement today that it intends to pay an arbitrary sum for the use of Qualcomm's patents in Nokia's WCDMA products after April 9 is an acknowledgment of its obligation to compensate Qualcomm for the use of those patents," Qualcomm stated.
Qualcomm asserts that if an agreement extending the current license agreement cannot be reached, "Nokia's rights to sell certain subscriber products (such as cellular phones and wireless personal digital assistant devices) under most of Qualcomm's patents will expire."
In This Corner …
The dust-up between the two companies concerns how much Nokia will pay Qualcomm to include technology based on the mobile phone chip maker's patents in its WCDMA (wideband code division multiple access) phones.
WCDMA, developed by NTT DoCoMo, is a third-generation (3G) high-speed digital data service offered globally by mobile phone carriers using the TDMA or GSM technology. The technology functions on WCDMA-enabled handsets, laptops and portable devices.
Universal Mobile Telecommunications System (UMTS) is the European version of the 3G wireless phone system, based on WCDMA. Also called 3GSM, the technology provides users with global roaming capabilities and the ability to personalize features.
Nokia maintains that until 2007 it has paid less than 3 percent cumulative license fees under all of its patent license agreements involving WCDMA handsets. Nokia "intends to make similar payment in the future," the Finnish handset maker said.
"Qualcomm's patent portfolio is concentrated in the United States, and it has few or no alleged UMTS patents in many of the countries in which Nokia has substantial UMTS handset sales, according to Nokia's Simonson. "When Qualcomm's early patents become paid-up and royalty-free on April 9, 2007, Qualcomm's share of all patents relevant to Nokia UMTS handsets will significantly decrease."
In the Other Corner …
Qualcomm, on the other hand, said that Nokia's claim that it has paid no more than 3 percent on WCDMA products sold through 2007 is "intentionally deceptive and misleading." In fact, the company asserted, Nokia has been paying a royalty on WCDMA handsets in excess of 3 percent to Qualcomm alone."
San Diego-based Qualcomm contends that Nokia's assertion about "what are fair and reasonable rates for Qualcomm's patents are directly contradicted by its demands for its own patents." According to Qualcomm, Nokia demands 2.5 percent for a single essential patent, 3.5 percent for two, three patents run 4 percent and 10 or more will go for 5 percent or higher.
Qualcomm's nonessential patents, the company continued, are not subject to FRAND (fair, reasonable and nondiscriminatory) commitments and may be subject to higher royalty rates, according to Nokia's own prior positions. "Nokia's current comments regarding Qualcomm's rates are simply statements of convenience.
"Qualcomm's licensing program for WCDMA products is well established and confirms that Qualcomm's licensing terms and conditions, including royalty rates, are fair and reasonable. The fair market value of Qualcomm's patents for WCDMA has been established by the more than 70 royalty-bearing license agreements that Qualcomm has negotiated at arm's length with the world's largest cellular equipment suppliers over the past decade," the company concluded.
At the Root
There is a very significant amount of money and leverage at stake because both Nokia and Qualcomm have substantial intellectual property assets that contribute revenue to their bottom line, Charles Golvin, a principal analyst at Forrester Research, told the E-Commerce Times.
"My impression is that for Qualcomm, it is a bigger piece of their overall business than for Nokia. Nokia has a lot of patents but many of them are used in cross-licensing agreements with other patent holders in order to prevent Nokia from paying their licensing fees," he explained.
"Qualcomm, though, they have a very big chunk of revenue that comes from their intellectual property."
The dispute between the two companies, Golvin said, is the result of the evolution from 2G to 3G. Formerly, under the 2G networks, most of Qualcomm's patents dealt with CDMA, and while Nokia paid to license some of those CDMA patents, it was not a major portion of their business the way GSM was.
Enter 3G
The advent, however, of 3G networks and the "wideband CDMA flavor used throughout Europe" has become a larger part of Nokia's business, Golvin said. The fees the company now pays to Qualcomm for that technology have risen considerably. Also at play in the quarrel, according to Golvin, is an agreement by some major patent holders to cap the fees charged for patent licenses.
"Qualcomm never signed up for that," he noted.
Though the companies have taken their disagreement public and seemed to be engaged in a pitched battle, Golvin expects that the two combatants will reach some sort of accord.
"Ultimately, these two parties will settle with each other," he stated. "They have to because each of them holds intellectual property the other one needs to do their business. It's really a matter of how this public component of the debate plays out before they come to an agreement.
"Ultimately, they will have to come to some sort of agreement," Golvin concluded.