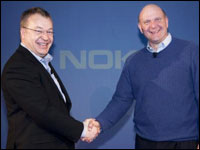 Nokia and Microsoft have banded together to fight Apple and Android. On Friday morning, Nokia announced it will partner with Microsoft, adopting the Windows Phone 7 operating system for its smartphones. In the past, Nokia has equipped its phones with its own software platform, Symbian, and a new one, MeeGo, was in development.
Earlier in the week, in a leaked memo, Nokia CEO Stephen Elop compared his company's current situation to that of a man standing on a burning oil platform. To survive, he said, Nokia needed to create or join a smartphone ecosystem. That is what it intends to build with Microsoft.
Microsoft Bing will be the search platform on all of Nokia's future devices. Nokia's app store will be integrated into the Microsoft Marketplace.
This is a win for Microsoft. The software giant will be able to expose its OS to a large base of customers. For Nokia — the largest mobile phone maker — the goal is to stop the bleeding as customers choose iPhones, Android smartphones and RIM's BlackBerry devices over its product offerings.
Nokia's Symbian and MeeGo operating systems will be pushed to the back burner and may eventually face extinction. As part of the switch to Microsoft, Nokia is revamping its management team and conducting a company-wide reorganization.
Nokia and Microsoft did not respond to the E-Commerce Times' requests for comments by press time.
Combining 2 Ecosystems
The smartphone market is a hot battleground. Nokia and Microsoft have both had trouble competing with Google's sexy Android OS and Apple's entrenched iPhone.
"I could see it coming, but I really hoped it wouldn't happen," Michael Morgan, senior analyst of mobile devices for ABI Research, told the E-Commerce Times. "Windows Mobile, Windows Phone 7 — that whole department is lost in the woods. Nokia is lost in the woods. They both needed a huge partner."
Even if these two giants combine their forces, they still have an uphill battle.
"This is the blind leading the blind," said Morgan. "We're not going to combine these two massive ecosystems and create this great mega giant to lead us to the future. Windows Phone 7 is highly incomplete. It has not proven itself to be extensible."
On the other hand, both Apple and Android have proven to be extensible, he said.
MeeGo, We Hardly Knew Ye
Customers who had been expecting to use Nokia's new OS, MeeGo, may be disappointed.
"The most important thing for Nokia is taking their feature phone customers and turning them into smartphone customers," said Morgan.
"They were going to do it with MeeGo, but they've broken that chain. The developers for MeeGo and Symbian are not happy. They're tired of having the rug ripped out of them, so the ecosystem is at risk — and we haven't seen much coming out of Phone 7 for apps," he said.
"We're going to see the Symbian device decline," added Morgan.
One point that may be in the alliance's favor is that Microsoft deals differently with multimedia than Android.
"In terms of content, Microsoft has already done a lot of work with games and music," Morgan noted. "Android does not have the cohesive content protections system, since they're all open source. So that's one interesting thing with Nokia and Microsoft."
Good for Microsoft – Unknown for Nokia
The hookup with Nokia doesn't seem to have a downside for Microsoft.
"Microsoft gains a large, highly capable hardware partner in Nokia," Alex Spektor, senior analyst for wireless devices strategies at Strategy Analytics, told the E-Commerce Times. "Additionally, Nokia's service assets, such as Ovi Maps, and its worldwide distribution network are a good complement to Microsoft's offering."
The stakes are higher for Nokia, which is leaving behind an OS it had invested in deeply.
"Since the agreement is not exclusive, there is little risk for Microsoft," said Spektor. "For Nokia, the outlook is not as clear. After pouring hundreds of millions of dollars into Symbian and MeeGo, the decision to abandon both is a brave one."
Nokia will be challenged by Android's versatility and its ability to function well in different markets.
"Despite its shortcomings, Symbian has been an effective way for Nokia to move downmarket, bringing the lowest-cost smartphones relative to other major platforms," said Spektor. "If Windows Phone 7 is unable to scale downward, the low-end smartphone space will open up to competitor Android, which is already poised to attack the space."
The Nokia-Microsoft partnership will add another level of competition to the already hectic smartphone market.
"Windows Phone 7 provides Nokia with a more viable entry point to North America, where Nokia has been largely absent in recent years," observed Spektor. "This means more competition for Apple, Google and RIM on their home turf. As Windows Phone 7 is available to any vendor wishing to license it, differentiation will be a challenge for Nokia."