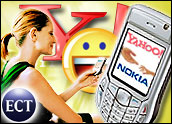 Search engine and portal Yahoo has struck a deal to have a ready-to-use version of its Web tools loaded into Nokia smartphones, securing some key real estate for its expansion into the world of the mobile Internet.
Under the deal, financial terms of which were not disclosed, certain Nokia phones will be equipped with Yahoo e-mail, search, news-reading features and diversions such as ring-tones and games. The first phones with the software pre-loaded will be available only in certain European and Asian countries, including the UK, France, Germany, Italy and Spain as well as China, India, Indonesia and Malaysia.
The phones are in the Series 60 line of hand-helds from Finland-based Nokia, including the 6680, 6681 and 6630, all of which run the Symbian operating system. Nokia indicated it would expand the program to additional phones in the near future.
No Fuss, No Frills
The move is seen giving Yahoo a leg up on its rivals in the search and portal arenas, all of whom are eager to extend their brands to the mobile Web, where new revenue opportunities in the form of advertising and mobile commerce await. Nokia is the leading maker of smartphones and by at least one count controls as much as 50 percent of the market for combined hand-held devices and phones.
Pre-loaded software is considered a coup by many analysts because all but the most savvy users are often unwilling to go through the hassle of loading custom applications to a phone once it's up and running.
Providing users the ability to turn on the phone and immediately use the mobile Web could result in expanded use of Internet services, at least in markets where the high-speed data networks necessary are in place.
"Access to information, entertainment and the ability to stay in touch when and where you want is at the heart of our vision of a mobile connected life," Nokia Vice President Harry Santamaki said in a statement. "Our agreement with Yahoo is a progressive step in facilitating the adoption of an online lifestyle."
Yahoo Mobile Vice President Juha Varelius said the deal would provide users the opportunity to "get the Yahoo Internet experience" on their mobile devices.
More To Come
The deal is not exclusive, meaning that Yahoo could land similar space on other devices and that Nokia could position other firms' software alongside Yahoo's on its phones. The users of the phones can also add their own Internet tools by downloading them or installing them from software discs.
However, analysts said that the majority of users will stick to the default settings and that reluctant Web users would be far more likely to venture online with the built-in software.
Still, independent Web search analyst John Battelle told the E-Commerce Times the the mobile Web is still a problematic proposition because mobile carriers represent an unnecessary middle man that can control access.
"The thing that makes the Web appealing to users is that it's by nature free and open," he said. "The experience that users have on the mobile side is much narrower, by design" of carriers.
Still, for now, Yahoo has a jump on rivals, all of whom are making bids to extend their online brands to the mobile Web. Doing so will unlock huge new opportunities — though ones that might be several years away in some key markets, including the U.S., where demand for Web services on mobile phones is seen lagging Europe and Asia.
Many New Models
For Nokia, the partnership fits with its strategy of leaning heavily on offering a range of smartphones to win back recently eroded market share, Jupiter Research analyst Joseph Laszlo said. He said Nokia is expected to roll out some 40 different phone models in 2005 alone.
The handset maker might also be in the best position to benefit from the smartphone trend. UK-based research firm Canalys released a report this week saying Nokia held a 50 percent market share of all smartphone sales in the first quarter and that smartphone shipments were up more than 80 percent over a year ago.