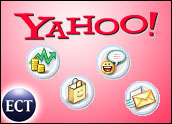 The war for Web users' eyeballs, hearts and minds — being fought on numerous battlefields from search to instant messaging — turned its attention back to the e-mail front today as Yahoo announced it would boost the storage of its free Web e-mail service to 1 GB.
The massive storage capability — four times the previous level of 250 MB — matches Google's much-hyped Gmail, which debuted last April 1 with the same level of storage.
Security Upgraded
In answers to Google, Yahoo a couple months later upped its free storage levels from 4 MB to 100 MB and subsequently, in November, to 250 MB, the same amount that users of Microsoft's Hotmail got in October for free. Hotmail users can also pay to upgrade to a 2 GB option.
Yahoo said the bigger mailboxes will be available starting in mid-April, as would upgraded security software to detect viruses in e-mail attachments.
Analysts say the move will almost certainly bring some responses. The most pressure might be on Microsoft, which has tried to dangle such large storage vaults as a premium service for paid users. Some analysts predicted it might even prompt Google to raise its own ceiling to 2 MB. Yahoo offers that level of storage for its premium mail service, which costs US$20 per year and is free of the display ads in the free version.
The move is also the latest example of how far Web portals are willing to go in order to lock in loyalty among users, whose eyeballs advertisers are paying to reach. From search innovations — Yahoo also released an updated desktop search product along with the e-mail upgrade — to new ways to integrate instant messaging and e-mail, the portals are rolling out new innovations at a breakneck clip.
"The goal of all the portals and search sites is now to build loyalty," Forrester Research analyst Charlene Li told the E-Commerce Times. "The more any user is bought into a single company's products, the less likely they are to jump to a competitor."
More and More
Though thousands of people already use Gmail, the only way to currently sign up is to be invited to join by someone with an account. Gmail could see a significant boost in user numbers once it becomes available to all, a surge of users that could enhance its leading position in the Web-mail-as-advertising-venue space. According to the SEO Search Blog, Google has begun embedding invitations to join Gmail into some search results.
Not everyone is a fan of the huge free e-mail accounts. Privacy groups have sounded warnings about placing large quantities of personal information in storage units controlled by a third party, especially, for example, since one feature of Gmail is for targeted advertising to be placed alongside messages.
Meanwhile, by many accounts, only the most intensive users will ever take advantage of all the storage space unless they save messages with large attachments.
Piece of the Puzzle
However, some analysts say the bumped-up storage is an effective marketing tool for the portals because the cost of storage hardware has dropped so dramatically and because a user will be more likely to return to a portal if he or she has an e-mail account there.
That could, in turn, enable Yahoo, MSN and Google to expose users to more of their services and products, making users more likely to conduct Web searches and make e-commerce purchases through them.
That loyalty challenge will become tougher in the future, as search specialty companies, including those focusing on vertical search such as shopping, gain more visibility, Li said. "Right now, users frequently move among various search engines," she said. "Keeping those users coming back is what the sites are all focusing on."
E-mail is important in that sense because it is considered a gateway product, like search, that users consider a primary Web function.
However, portals and search companies have made it clear they're going to leave no stone unturned in the search for loyalty. AOL this week unveiled an advanced version of its instant messaging platform that enables enhanced video and voice chat, and Yahoo recently confirmed it had bought photo-sharing-cum-social-networking site Flickr.