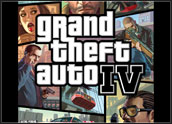 Take-Two Interactive Software, maker of the immensely popular "Grand Theft Auto" video game series, has decided to remain independent after fielding several acquisition bids over the past few months from other video game software makers — most notably, Electronic Arts.
New York-based Take-Two, which also has a popular line of sports titles such as "College Hoops 2K8," "NBA 2K9" and "NHL 2K9," made the announcement Thursday.
Redwood City, Calif.-based Electronic Arts, maker of the best-selling "Madden NFL" series of games, made an unsolicited cash bid for Take-Two in February, offering US$25.74 per share, a significant premium over Take-Two's share price. Take-Two rejected the offer.
A Lost Opportunity?
EA's acquisition strategy may have been partly to blame for a deal never coming to fruition.
"I think the hostility of the unsolicited bid by EA had something to do with it," Mike Hickey, an equity analyst with Janco Partners, told the E-Commerce Times. Hickey covers both companies.
Electronic Arts may have been too hard and fast in its decision to stick by the $25 per share offer, in Hickey's view.
"They had an opportunity to take out a competitor at a low multiple," he said. "We thought it was a mistake for them to be so disciplined in their bid. You want to be disciplined — but to not show any flexibility on the bid side seems irresponsible, given the opportunity."
Take-Two was extremely complementary for Electronic Arts — not just from a product standpoint but from a cost-savings standpoint, Hickey pointed out. Electronic Arts could have realized cost-savings of about $100 million because there is such overlap in their product offerings, especially in the sports games segment. At the same time, most of Take-Two's corporate structure would have been taken apart had the deal gone through.
Or a Wise Move?
Not everyone thinks Electronic Arts lost out in its bid for Take-Two, however.
"I think EA was disciplined and made the right move," Todd Greenwald, an equity analyst at Signal Hill Group, told the E-Commerce Times. "They offered just under $26 per share, and now Take-Two is trading at $15. For EA, they're done with Take-Two. For Take-Two, it just shows that there weren't any legitimate buyers."
Prospects for both companies look good, despite the fact that the two sides couldn't agree on a deal.
Electronic Arts will continue to make acquisitions as they come up, but M&A won't be a big part of its growth strategy, Greenwald said.
"They still have a large line of titles coming through this year," he noted. "I don't think EA is such a big company that there's no organic growth left for them. The video game industry is growing by 20-to-30 percent per year on the software side. Next year, you're looking at another 20 percent growth."
Janco's Hickey is similarly optimistic about Take-Two's growth prospects, even as an independent company.
"With EA gone, I think the idea that someone will come in with a higher bid is seemingly remote," he said. "We're very bullish for the medium to longer term. Take-Two has a relatively new management team that's very aggressive. It also has some of the most powerful [intellectual property] available, like 'Grand Theft Auto.' And we believe in the video-game market going forward. You're seeing dramatic increases in hardware — usually what follows is the acceleration of the software side."