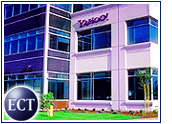 Video game giants Nintendo of America and Electronic Arts announced Monday that they would drop a trademark and copyright infringement lawsuit against Yahoo!.
The three companies also pledged to work together to prevent the sale of counterfeit video game products through Yahoo! Auctions and Yahoo! Classifieds.
The two video game companies, along with Sega, sued Yahoo! in March 2000, alleging that the Internet powerhouse knew illegal sales of counterfeit video games were taking place through its site, but that Yahoo! did nothing to stop the sales, even after being contacted by the video game companies.
Linking Arms
"We're very pleased about today's settlement," Yahoo! general counsel Jon Sobel told the E-Commerce Times. "We believe the best way to solve new challenges is for companies to work together."
Sobel added that working together instead of litigating is often the best solution, because the courts sometimes do not move rapidly enough to keep up with today's technology.
Sega dismissed its suit against Yahoo! last September after reaching a similar settlement.
Looking for Solutions
Yahoo!, Nintendo and Electronic Arts said that they would cooperate "to ensure the effectiveness of Yahoo's proprietary filtering technology to screen and block counterfeit video games on Yahoo's network."
The technology Yahoo! plans to use to block auctions of counterfeit games was originally introduced in January and is also being used to block auctions of Nazi and other hate-related products.
Sobel pointed out that Santa Clara, California-based Yahoo! "discourages and prohibits" the listing of counterfeit merchandise as part of its Terms of Service (TOS). He added that the company planned to remove auctions of objectionable material and repeat offenders would have their accounts terminated.
Pirates Beware
Among other companies, rival auction house eBay has also been monitoring its auctions for pirated software and video games. Additionally, Amazon won accolades in December from the Business Software Association (BSA) for its self-policing efforts.
The problem of counterfeit software and video games being sold through auctions has escalated. A survey by the Software & Information Association (SIIA) in August 1999 found that 60 percent of software sold through auctions was counterfeit.
By April 2000, the percentage of counterfeit auctions had risen to 91 percent. The BSA estimates that the software industry loses US$13 billion annually due to software piracy.
Walking the E-Plank
The BSA, the SIIA, and other industry watchdog groups have been aggressive about cracking down on software pirates. In January, the SIIA filed lawsuits against two people who were allegedly selling pirated software to contacts made through online auction houses.
The SIIA settled with one pirate, Julian Kish, in February. The settlement included a confidential payment for the unlawful distribution of software, a letter of public apology from Kish, and an order not to infringe copyright in the future. The other defendant has not yet settled, and could be liable for up to $150,000 per violation.
The SIIA and the Business Software Association (BSA) have each issued separate sets of guidelines to crack down on Net auction pirates. Both sets of guidelines urge online auction houses to voluntarily take action to stop the new breed of software pirates.
When the BSA issued its guidelines in December, BSA vice president of enforcement Bob Kruger told the E-Commerce Times that the new guidelines are necessary because "many of the people who used to sell software at card tables at flea markets have migrated to online auction sites."