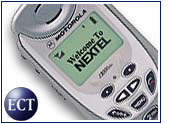 Nextel (Nasdaq: NXTL) picked up 21 U.S. cents to $16.46 in morning trading Tuesday, after the wireless communications company reported a narrower loss for the first quarter and announced plans to cut 5 percent of its workforce.
The job cuts, which will affect U.S. workers, are aimed at cutting operating costs and improving operating cash flow, the company said.
"While domestic subscriber growth was slightly better than anticipated, the company incurred slightly higher customer acquisition and handset upgrade costs in the first quarter of 2001," Nextel chief financial officer John Brittain said.
Nextel will also lower its distribution costs and reduce handset subsidies, Brittain said.
Revenue for the quarter ended March 31st rose to $1.74 billion from $1.18 billion a year earlier. Earnings before interest, taxes, depreciation and amortization rose to $318 million from $228 million, while the net loss narrowed to $428 million, or 56 cents per share, from $435 million, or 59 cents.
Nextel said that it added 695,400 subscribers during the quarter, for a total of 8.33 million worldwide.
"We are making solid progress building our business, differentiating our four-in-one digital service, and attracting the most valuable customers in the wireless industry," Nextel president and chief executive officer Tim Donahue said.
International operations saw improvement during the quarter, Nextel said. The division added 155,200 subscribers, bringing Nextel's total to 1.04 million, 133 percent ahead of a year earlier. International revenue rose 167 percent year over year, to $139 million.
"There are significant growth opportunities in the markets we serve, and we look forward to continued improvement in our performance," said Nextel International CEO Steve Shindler.