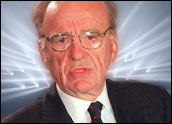 Media mogul Rupert Murdoch, who spent much of 2005 buying up Internet properties, may be poised to invest as much as US$1 billion into developing high-speed wireless Internet connectivity through the DirecTV division of News Corp.
The DirecTV effort, which Murdoch said it would reveal in full in coming weeks, is part of a larger strategy for News Corp. to use its new Internet presence and its TV and news content to become a more significant player on the Web. Murdoch did say that DirecTV has been looking at the emerging WiMax technology being developed by Intel and others.
Acquisitions Piling Up
"The Internet is the ultimate provider of choice," Murdoch said during the Citigroup Entertainment, Media and Telecommunications Conference in Phoenix on Monday.
Murdoch, whose News Corp. empire counts Fox broadcasting, newspapers and movie studios among its holdings, last year bought social networking site MySpace.com, youth-focused site Neopets and IGN Entertainment, a gaming site with some 28 million regular users.
The buys were worth around $1 billion all told and sparked numerous rumors about other possible purchases. Murdoch at one time was said to be eyeing both video search engine Blinkx and peer-to-peer communications firm Skype, which was later acquired by eBay.
Now, Murdoch says the company will make an Internet access play that leverages the satellite network of DirecTV, likely enabling on-demand video and other entertainment to be pumped into homes. Because satellite dishes are built primarily to receive signals, the technology does not support strong high-speed Internet connectivity, but Murdoch hinted the company had found ways to change that or to position a second technology alongside the satellite feeds.
"You'll be hearing from us within two months on a very clear plan what will happen, and it's not as expensive as you might think," he said. "We have a lot of people on this full time at the moment."
Face in the Crowd
News Corp. was one of many traditional media companies to make significant investments and forays into the Internet world over the past two years, with the New York Times buying About.com and the Wall Street Journal scooping up MarketWatch.
Meanwhile, television networks unleashed a flurry of Web-related deals in the second half of 2005 as major networks such as NBC and CBS began offering downloads of prime time shows and evening newscasts on the Internet.
By using DirecTV, Murdoch may be hoping to compete with the Internet delivery channel that many of its cable company competitors already offer. He also said that MySpace.com would be expanded with additional content, including downloadable video.
He also predicted that the Internet would ultimately change the financial model for media, including movie studios, with some studios presumably able to make films exclusively for pay-per-view release on the Internet.
When asked about his own Internet strategy, Murdoch said MySpace.com now has about 47 million members and is adding nearly 1 million a week.
"There are unbelievable numbers of not just teenagers spending a lot of time on MySpace, these are the people who are reading less newspapers and who are watching less TV," he added. In addition to video downloads, Murdoch said he could see MySpace.com becoming a hub for other services, including instant messaging and voice chat.
Revenue River
Murdoch said the Internet did not pose a threat to traditional media companies like his because they still own much of the content that people want to see, hear and read.
"We love hearing about all these new gizmos," he said. "We'll be on all of them. They are useless without anything on them."
Jupiter Research analyst David Card said Murdoch's focus on content may be somewhat misplaced. He said a better strategy may be to buy or partner with providers of VoIP and instant messaging.
"Developing the ad platform should be a higher priority than developing content," Card said. "The MySpace crowd creates their own content." Card said the site also needs to be updated, saying the front page brings to mind "1998."
Forrester Research analyst Charlene Li said News Corp. and others are being both proactive and defensive in making moves into the Web, as the advantages of advertising online, especially the ability to target a consumer and to get instant feedback on a marketing message moving more money that way over time.
"The Web offers the ability to target audiences and tailor messages in a way that almost no other format can," Li told the E-Commerce Times. "Media companies see advertisers putting more of their overall spend into the Web and they want to be part of that."