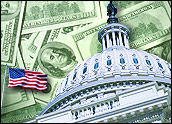 It may not seem like most people's idea of summer reading. Then again, it is the chance to engage in some detective work with billions of dollars and terabytes of sensitive government data at stake. Better yet, you don't have to spend any money to read this latest techno-thriller.
IT Dashboard is the new free online service launched Tuesday by the Obama administration to let Americans view how their tax money is spent on information technology. The data on government technology investments might only quicken the pulses of a select audience — accountants, IT vendors, open government watchdogs — but we are talking about US$70 billion spent annually by Uncle Sam on IT, and the new effort is an attempt by the administration to follow through with its campaign promises of more transparency in Washington, D.C.
The Dashboard contains animated pie-chart graphics and links to information on 157 investments from 20-plus government agencies like Defense, Health and Human Services, Justice, Homeland Security, Agriculture and the Treasury. Users will be able to see a color-coded report card, of sorts, on how well their money is being spent, although all the information contained on the Dashboard comes from the agencies themselves, and the performance evaluations are provided by their chief information officers.
The Dashboard should be considered a work in progress, Vivek Kundra, the new federal CIO, has said in previous interviews. It's a beta of sorts, since more information and analytics are coming, as is the chance for more user participation, including a blog for suggestions.
Going Social With IT Investment Info
The site includes ways for users to share what they find with friends and coworkers. Hitting the "share" link on an agency's Investment Information section yields embeddable URLs and buttons for publication on Facebook, Twitter and Del.icio.us.
This increased openness is a plus, but the proof will come when IT Dashboard becomes more of a conversation and less of a data repository, according to Charles King, principal analyst at Pund-IT.
"I think it's always good to solicit information, but the real test of a program like that is what you do with the information after you get it," King told the E-Commerce Times. Computer maker Dell, for example, takes suggestions in blog form from customers, with some of those suggestions ending up as products or additional Dell services, he said.
"If the government can create an actionable policy or actionable effort out of that, I think it's terrific," King asserted. "I think it's going to be worth keeping a close eye on exactly how they collect that information, who parses it out and what happens."
Consistency in Government Tech Spending
The data available now on IT Dashboard may also end up highlighting what has been a big problem for government IT spending: Some agencies have a better grip on technology than others, and the resulting inconsistencies can make for cumbersome battles and tough interagency cooperation.
"Because so much of the spend has been controlled very much on an agency-by-agency basis or by individual politicians, there was a huge disparity between the sophistication that one agency would have and that of another agency," said King.
For example, "in the months after [the Sept. 11, 2001 attacks], there was report after report about the inability of government agencies who were involved in attack detection and prevention from simply sharing information contained in different databases," King said.