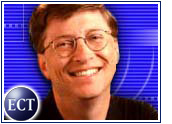 Software giant Microsoft is about to release new features for its Web browser that will allow surfers to delete "cookies," the computer implants used by Web companies to track personal information. The features will be part of Internet Explorer 5.5 (IE) and will provide more selective user alerts when cookies are delivered, as well as a number of cookie management options not previously available.
The Redmond, Washington-based software giant said the "privacy-enhancing" features will give consumers a clearer understanding of the types of cookies being used, as well as information about the source of their cookies.
For example, the new features will help consumers differentiate between cookies placed by the Web sites they are visiting and those placed by third-party advertisers. Additionally, the enhanced cookie notification default setting will notify users each time a third-party persistent cookie — a cookie that remains on the consumer's hard drive for a specified period of time — is being delivered.
One of the most welcome new features allows a user to erase all of the cookies on his or her computer with the click of the mouse. The new "delete all cookies" button will be part of the primary "Internet Options" page of the IE control panel.
Hands in the Cookie Jar
Microsoft Chief Operating Officer Bob Herbold said, "Microsoft is taking significant steps to put the power of personal information back into the hands of the consumer by addressing privacy and security concerns at the foundation of the software industry."
Cookies are small pieces of information placed on the hard drive of a Web site visitor by Internet companies. They are used for personalizing Web site being visited, to determine when a particular advertisement is viewed, and to track surfing habits. For example, cookies are the method through which an e-commerce store, such as Amazon.com or AmericanAirlines.com, is able to identify returning customers and recall their preferences.
Many privacy advocates have been highly critical of cookies being used without the knowledge or consent of the individuals involved.
Chris Jones, vice president of the Windows Client Team at Microsoft said that the new cookie management features are intended to "ensure that consumers have control over their personal information without sacrificing the experience delivered by the use of cookies on the Internet."
In the Oven
The new features are currently being released to more than 2,000 beta testers, including both consumers and corporate users, in the form of an upgrade for Internet Explorer version 5.5.
After receiving feedback from those testers, Microsoft plans to release a beta version for the general public to test within four weeks.
Government Applause
According to Microsoft, it made the decision to provide the privacy upgrade in response to "consumer feedback expressing confusion over cookies, conversations with privacy advocacy groups and meetings with state attorneys general at the National Association of Attorneys General meeting held in Seattle last month."
Attorneys general from several U.S. states — including Arizona, Connecticut, Illinois, Massachusetts, Michigan, New Jersey, New York, Vermont, and Washington — had sent Microsoft a letter saying that cookies raise serious privacy concerns and asking for Microsoft's active assistance in redesigning how IE handled cookies.
Commenting on the new IE features, California Attorney General Bill Lockyer said, "I applaud Microsoft's responsiveness and leadership in dealing with this important issue. Protecting consumer privacy is a priority; these changes to Internet Explorer 5.5 will be an important step in reaching that goal."
Thorny Patch
Earlier this week, Microsoft was scrambling to keep users from being affected by the latest security flaw in its Outlook software, an opening that could allow malicious users to take over other computers. The flaw was discovered by researchers in Australia and South America. To date, no one has reported being affected, Microsoft officials said.
The company acknowledged the flaw and issued a bulletin, saying it would make patches available to eliminate the vulnerability for those users who do not want to go through an entire upgrade.