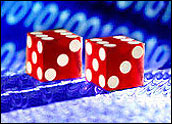 State lawmakers in Nevada approved a bill Monday that could make the Silver State the first in the U.S. to legalize Internet gambling.
The Nevada Senate vote of 17 to 4 gave the needed two-thirds approval to Bill No. 466. The bill now moves to Nevada Governor Kenny Guinn for his approval.
While the proposed law started as a bill dealing with casino employment, the legislation was amended to include a provision that would allow online betting, based on guidelines to be developed by the state's Gaming Control Board and its Gaming Commission.
Those two agencies are expected to recommend methods to prohibit minors and residents of states where Web gambling is prohibited from placing bets.
Nevada is hoping to capture what is by all accounts a booming market for online gaming.
Win-Win?
Several experts have called the move a win-win proposition for the state's thriving casino industry and the state itself, which would collect a 6.5 percent tax on all money collected through online bets.
Others have asserted that it might be easier to monitor online gaming than bets placed in casinos, making it easier to root out fraud, and to identify and help problem gamblers.
Here Come the Feds
The approval of the law almost certainly sets up a challenge with U.S. officials, who have maintained that an existing law that bans on gambling over telephone lines, the 1961 Wire Act, also applies to the Web.
Federal lawmakers, meanwhile, have considered an explicit, all-out ban on online gambling as well, though the measure has not been made into law.
The Way It Is
However, casino operators point out that millions of dollars are already being wagered online, primarily through sites operated by offshore companies not restricted by U.S. law.
A study last year by the River City Group found that 700 gaming sites brought in $1.1 billion in 1999 and are expected to do $3 billion in business in 2002. Other researchers have put the take at twice that amount by 2003.
Another study, from Greenfield Online, found that because so many online casino operations are run from offshore locations with little government oversight, as many as 60 percent of Web gamblers believe the sites are "fixed."
Different States
While New Jersey lawmakers continue to mull over a bill that would also enable casinos to collect bets online, other states are moving in the opposite direction.
For instance, California lawmakers in April gave preliminary approval to a bill that would ban online gaming and includes a provision for issuing fines to online casinos that accepted bets from California residents.
Last year, California settled a case against online horse race betting firm YouBet.com for $1.3 million.