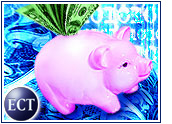 NetZero (Nasdaq: NZRO) dropped 20 U.S.cents to $1.05 in morning trading Friday after reporting a wider loss than last year forthe third quarter ended March 31st.
NetZero, a free Internet access provider, reported a pro formaloss, excluding amortization and other charges, of $33.6 million, or 29cents per share, compared with a loss of $22.2 million, or 24 cents, in thesame period last year. The net loss totaled $91.4 million, or 79 cents pershare, against a year-earlier loss of $24.9 million, or 27 cents.
Revenue for the quarter totaled $12.8 million, down from $16.9 million ayear earlier.
NetZero said revenue from its new, billable services totaled $1.8 million,or 14 percent of total revenue, in the latest quarter. During the quarter,the company launched a $9.95-per-month "bannerless" monthly subscriptionservice, as well a plan that lets free-access users pay for time beyondtheir monthly limits.
"We made important strides this quarter in positioning NetZero to remain amajor long-term player in the competitive market for consumer Internetaccess," said chairman and chief executive officer Mark R. Goldston. According to Goldston, the company is "encouraged" by the initial success of its paid services.
The company said 116,000 users nowsubscribe to its paid services, most of whom upgraded from free Internet access service.
"Given the limited visibility for the recovery of the online ad market, thesuccess of our new pay services will be critical in moving the companytoward positive cash flow," said Goldston.
NetZero said cash burn during the quarter was the lowest since its firstquarter as a public company, and more than 50 percent below the quarterended in December. A "substantial surge in users" early in the quarterresulted in higher telecommunications costs, but average hours per user andcost of sales per user dropped, the company said.
"Looking forward, we expect to continue to significantly reduce our cashburn in the second half of the calendar year, while experiencing an increasein the June 2001 quarter due to pre-existing marketing commitments thatterminate in June," said chief financial officer Charles Hilliard.