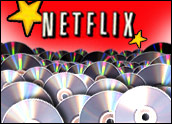 Movie rental giant Netflix will partner with LG Electronics to offer set-top boxes that will enable consumers to stream movies from the Internet to their network-enabled TV sets.
The service will eliminate the need to use a personal computer to download films — a service Netflix currently offers on a limited basis — and enable high-definition versions of full-length movies and other programming to be sent directly to TVs.
The service will likely be available by the second half of this year, the companies said in a joint announcement just a few days ahead of the International Consumer Electronics Show in Las Vegas.
'Instant Gratification'
"Consumers crave compelling and immediate content," said Ki Kwon, president of LG Electronics USA's consumer division. "The Netflix online streaming movie feature can provide instant gratification."
For Netflix, the service is another leg of a larger hybrid strategy that gives users as many choices for obtaining content as possible. Its core rent-by-mail service has around 7 million users, and in recent years Netflix has added Internet-based downloads and streaming options as well.
Netflix shares rose just under 1 percent in morning trading Thursday to US$26.58.
'A Huge Opportunity'
Amazon has partnered with TiVo to enable direct-to-TV downloads, and Apple debuted its AppleTV device for slinging Web content to televisions last year.
The Netflix solution will require consumers to be subscribers and to own an LG device and a network-enabled television set.
"Internet to the TV is a huge opportunity," said Netflix Chairman and CEO Reed Hastings.
Netflix considered offering its own brand of set-top boxes before deciding to partner with LG. "We concluded that familiar consumer electronics devices from industry leaders like LG Electronics are a better consumer solution," Hastings said.
Plenty of Competition
The move comes as early attempts to deliver video over the Web are starting to shake out. Wal-Mart recently abandoned its video-on-demand offering, which was limited to PCs only, JupiterResearch analyst Michael Gartenberg told the E-Commerce Times.
"Netflix is making a good move to get the streaming service beyond the PC to the TV — where consumers really want it," he said. There will be plenty of competition, however, including video-on-demand services from cable and telephone companies.
While the Netflix name may help it get early adoption, "the brand will only carry it so far," and the details of how the hardware and service work will help determine how much of the market it can capture. "They've got to overcome the technological hurdles that have slowed mass market adoption to date," Gartenberg added.
Ramping Up
CES is expected to be heavily focused on Web and mobile initiatives this year. Netflix's announcement may help put pressure on Apple to add movie rentals to its iTunes Music Store, a move it has long been rumored to be on the verge of making. Published reports last week suggested Apple has already struck a deal to offer rentals of movies from 20th Century Fox and is poised to announce the service soon.
Bridging the final gap from PC to TV remains the key to the market, said Yankee Group analyst Michael Goodman.
A 2006 survey by that research firm found that while only about 10 percent of users with broadband Internet connections would pay to download video to their PCs, that number jumps to 40 percent if that content could be sent to their TV sets.
"The first easy-to-use and affordable services that bridge that gap will be what enables mass-market adoptions," Goodman told the E-Commerce Times. Pricing will be a key factor, because many of Netflix's subscribers choose relatively inexpensive monthly options and may be reluctant to invest in new hardware before it's clear what approach will win in the end.