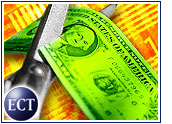 Internet Capital Group, Inc. (Nasdaq: ICGE), an incubator for business-to-business (B2B) startups, said Wednesday that it will lay off 35 percent of its workers after reporting a third quarter loss that was wider than a year earlier.
The company said the layoffs would result in a charge of $25 million to $30 million (US$) in the fourth quarter, including $4 million to $5 million in cash.
With its partner companies suffering from weak demand for their services and their stocks, ICG said it plans to restructure its holdings. The firm said it will focus on 15 U.S. companies in which it has invested $1.7 billion of capital, while keeping an eye on others that have the potential to meet its criteria for success.
"We believe that giving more attention to a smaller number of companies will fuel the development of our leading partner companies, and, in turn, generate greater shareholder value," ICG president and chief executive officer Walter Buckley said.
Analysts Downgrade Stock
As part of its plan to focus on a few key companies, ICG said it will spin off its European and Japanese operations into "separate entities that will seek external financing." The company said it will retain "substantial" stakes in the operations.
As an example of its strategy, ICG said it received $15.2 million in September, followed by another $9.7 million in October, from the sale of its $8 million stake in Centrimed, a health-care technology firm, to Global Health Care Exchange. The company said that particular deal could also generate additional revenue if Centrimed meets certain performance goals.
Analysts at U.S. Bancorp Piper Jaffray and First Union Securities reportedly lowered their ratings on ICG stock, which plunged 6 1/8 to 10 1/8 in early trading Thursday. ICG posted its third quarter results after the close of trading Wednesday.
Crunched Numbers
ICG reported a loss before items for the quarter of $263.9 million, 1,625 percent higher than the third quarter loss of $15.3 million a year ago. ICG lost 94 cents per fully diluted share in Q3 2000, compared to 7 cents in the same period last year.
Revenue rose to $16.47 million from $7.19 million. Combined revenue from partner companies totaled a pro forma $594.7 million in the third quarter, a 630 percent increase from the $81.5 million in Q3 1999.
Cash, short-term investments and marketable securities totaled $513.9 million at quarter's end, which ICG said gives the company "significant financial flexibility."
ICG spent $26.8 million in cash and $13.6 million in stock on new acquisitions during the quarter, in addition to $93.2 million in cash and $197.8 million in stock for increasing its stake in existing partner companies.