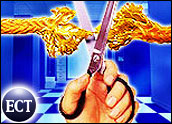 Sounding the death knell for its hopes of providing round-the-clock trading for investors, Nasdaq has halted plans to move forward with Nasdaq Japan, saying it will withdraw completely from the troubled effort by October 15th.
But the exchange will not disappear completely. The Osaka Securities Exchange (OSE) plans to continue to run it under the tentative name Japan New Market.
The Nasdaq Japan board of directors expressed "deep regret" over terminating the venture but said that "under current economic circumstances there is not a viable path forward for the company." Nasdaq Japan president Yoshihisa Katsuya called the decision a "truly difficult" one.
George Nichols, an analyst at Morningstar.com, told the E-Commerce Times that Nasdaq's withdrawal comes as no surprise because rumors of the move have been percolating for quite some time.
Big Dreams
The U.S. exchange started Nasdaq Japan two years ago as a joint venture with Softbank. Each company held a 43 percent stake, while other securities entities in the United States and Europe picked up the remaining 14 percent.
The exchange — launched in a booming economy and during a period of wild growth for the Nasdaq — soon expanded its computing resources to accommodate what it believed might amount to unprecedented trading activity that would double Nasdaq's volume.
Riding high on the dot-com craze and boosted by the robustness of tech stocks, Nasdaq ambitiously eyed international markets and believed it could convince 150 companies to list on a Japanese exchange.
Shattered Hope
But even as Nasdaq Japan launched, the market had begun its decline, and dot-coms hadfallen on hard times. Tech stocks in particular took a beating. Only 98 companies hadlisted on the Japanese exchange by the end of its first year of operation.
In contrast, the rival Jasdaq market boasts more than 900 listings. That exchange is run by the Japan Securities Dealers Association.
Nasdaq's most recent financials showed a hefty decrease in earnings during the second quarter. The company attributed that decline to a drain on finances by Nasdaq Japan. The Japanese exchange lost $44.2 million in 2001.
"I think the Nasdaq wants to shore up its financial position before its eventual IPO," said Nichols. "Losing money on this venture for the foreseeable future wouldn't help that cause."
Future Plans
While it is not clear when the Japan New Market name will take effect, the OSE did say that the companies currently listed on Nasdaq Japan will be listed on Japan New Market.The board said trading will not be interrupted for companies that remain.
"We will work in close cooperation with the Osaka Stock Exchange and other parties to ensure a smooth transition," said Katsuya.
Nichols said he does not believe that American companies listed on the Nasdaq exchange are likely to be affected. "Young tech firms in Japan will be the prime losers after this venture is abandoned," he noted.
Nasdaq said that although it is shuttering the once-promising Japanese exchange, it will not abandon its other efforts to extend its global reach.
"The decision to wind down our operations in Japan in no way changes Nasdaq's commitment to our international strategy, and we will continue to leverage market opportunities, particularly in Europe, in the near term," said Rick Ketchum, president of the Nasdaq Stock Market and a member of the Nasdaq Japan board.