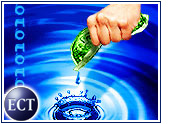 Japanese Internet venture investor Softbank has sold its remaining stake in E*Trade, taking a loss as part of an effort to realign its holdings and reduce its exposure to the dot-com world.
Softbank said it sold a total of 12 million shares of E*Trade stock for US$3.60 each, raising $43 million in the process as it seeks to shore up its own financial situation.
While Softbank previously had divested itself of some E*Trade stock at higher rates, it cumulatively recovered just a fraction of the $400 million it paid for a stake in the online broker in mid-1998. At the time, E*Trade shares were valued at more than $25 each.
Buy, Back
E*Trade itself bought back about 3.4 million of Softbank's shares. The company chose not to focus on losing a major and early investor, instead saying that its ability to remove shares from the public market would boost the value of stock still in circulation.
"The repurchase of a block of shares at this price offers an extremely compelling value-creation opportunity for the company and its shareowners and stakeholders," said E*Trade CEO Christos Cotsakos.
Liquidity Problems
Softbank was one of the leading providers of the capital that fueled the dot-com explosion, bankrolling such companies as Toysrus.com, Kozmo, Webvan and Buy.com.
But the firm has run into its own liquidity problems of late as its own stock has plummeted on the Tokyo stock exchange. Like U.S. counterparts CMGI and Internet Capital Group, it has seen its share price drop by more than 90 percent in the past two years.
The company has been quietly offloading some of its once-sprawling exposure to the dot-com world. Last December, for example, it sold a portion of its Yahoo! shares to SBC Communications, paring its holdings in the portal giant to a 16 percent stake.
Dog Days
Softbank said it plans to use the cash from the E*Trade transaction to bolster an effort to accumulate additional broadband Internet holdings in the Far East.
"The more exposure some of these holdings companies have, the more likely they are to be getting hit hard now," US Bancorp Piper Jaffray senior analyst Safa Rashtchy told the E-Commerce Times. "For every successful company in a portfolio, there seem to be at least five or six dogs that have to be written off — and that gets expensive."
Softbank will retain a seat on the E*Trade board and still holds a small stake in the company through E*trade Japan.
Colorful Past
As a result of its massive investments in the Internet economy, Softbank now has a checkered portfolio.
Investments that have sputtered include its backing of BlueLight.com, the online arm of now-bankrupt retailer Kmart. Softbank was also an early investor in Buy.com, which pumped $225 million into the e-tailer before it went public, only to have it taken private again by founder Scott Blum for pennies on the dollar.
Moreover, Softbank owned about 10 percent of Webvan when it filed for bankruptcy last summer, was a major backer of doomed delivery service Kozmo, and partnered with now-defunct Egghead.com to launch a Japanese e-tail site.
On the other hand, the firm still has a stake in online toy seller Toysrus.com, provided much of the cash needed to grow 1-800-Flowers.com before its IPO, and has backstopped Global Sports, which recently morphed into GSI Commerce and seems to have found a niche as an e-commerce service provider.