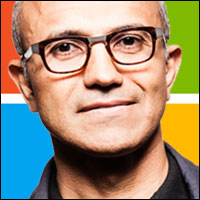 Microsoft is ready to make its enterprise and cloud head, Satya Nadella, the company's new chief executive officer, and it may replace Bill Gates as chairman, according to press reports.
Nadella stood out as one of the stronger options to replace retiring CEO Steve Ballmer several weeks ago, according to Bloomberg, but the plans are not yet set in stone.
Nadella reportedly is in contract discussions with the board, and Microsoft is likely to announce its CEO appointment within the next week.
Nadella would seem to fit the bill, as the company is moving away from its software-developing heritage to focus on hardware and online services.
Cloud Head
Nadella joined the company in 1992 and has led cloud services, server software, online search and business applications. While president of the server business, he grew revenue to US$20.3 billion in the fiscal year, up from $16.6 billion when he took over the unit in 2011. That business evolved into cloud and enterprise as part of a Ballmer-led company reorganization last year.
On the chairman side, the company's lead independent director John Thompson is a prime candidate to take over the role if the board opts to replace Gates, a cofounder of the company. However, if Gates does step down, he may take up a larger role within the company in areas such as product development, according to Bloomberg.
Gates as Advisor?
Nadella reportedly has asked Gates to work on technology and strategy and act as a close advisor to him. That said, Gates reiterated his desire earlier this month to focus on his philanthropic efforts while working part-time as a Microsoft board member.
Ballmer took over the CEO position from Gates in 2000. During his tenure, Microsoft struck a deal to buy Nokia's handset business for US$7.2 billion. In the last 10 years, company stock has grown 74 percent.
Thompson is a technology executive with more than 40 years' experience. He had a lengthy tenure at IBM before moving to Symantec in 1999, where he grew sales from $600 million to $6 billion before departing in 2009. He now runs software maker Virtual Instruments and joined Microsoft's board in 2012.
Other Candidates
Thompson is leading the CEO search and said last month the board wanted to complete the hunt by the early part of this year. More than 100 candidates were in the frame at the start of the process, including Microsoft Executive Vice President Tony Bates and Chief Operating Officer Kevin Turner.
Among the external candidates were ex-Nokia CEO Stephen Elop (who previously ran Microsoft Office), Ford CEO Alan Mulally, and Ericsson CEO Hans Vestberg, according to reports. Mulally dropped out of the race earlier this month, and Vestberg plans to stay at Ericsson.
Nadella is the leading choice, it seems, and it appears he's generally regarded as a strong one.
'Best Choice'
"Microsoft is actually performing well financially — they just are showing weakness in some of the divisions," Rob Enderle, principal analyst at the Enderle Group, told the E-Commerce Times.
"In that case, bringing someone in from the outside risks breaking more than you fix — and if you pull from the inside and don't pull a high performer, you will lose them and likely lose the performance in that unit as well," he explained.
"Ideally, you want to move your best-performing leaders up, and you bet their execution competence can be spread. Any other choice leaves you with greater exposures and a higher probability of a decline. Thus, the choice Microsoft made was pretty much by the book. Using best practices," Enderle concluded, "Satya was the best choice."