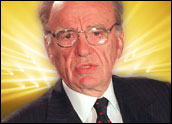 It's not so much a war of words, but a war over words, between News Corp. Chairman Rupert Murdoch and search giant Google. Murdoch fired another broadside over the weekend by announcing his intention to eventually close off News Corp. content to Google's search technologies.
In an interview with Sky News Australia, Murdoch said his company would be happier with fewer people visiting its news Web sites, but with those who do visit paying for online subscriptions. Murdoch's contention is that online advertising alone won't be enough to support the Web journalism goals of News Corp.
The statements continue Murdoch's assault this year on Google News and other aggregators, which he claims are making money off of the work of others, most notably his print subsidiaries like The Wall Street Journal, the New York Post, the Times of London and the Australian. Murdoch has said he will eventually take all digital content behind a paywall, but he hasn't given a specific date on when those walls would go up.
The Google-WSJ Relationship
Anyone searching Google News and ending up with links to Journal stories should only get to read the first two paragraphs before being encouraged to subscribe, Murdoch told Sky News. However, Google News searches for WSJ content usually allow users to read the entire story.
Google would not respond to Murdoch's specific comments, spokesman Chris Gaither told the E-Commerce Times. However, he did detail the various options Google has set up for publishers regarding how their content can be viewed in search results.
"News organizations are in complete control over whether and how much of their content appears in search results. Publishers put their content on the Web because they want it to be found, so very few choose not to include their material in Google News and Web search," Gaither said. "But if they tell us not to include it, we don't. There are simple technical standards, used by millions of webmasters and honored by all reputable search engines, to instruct a search engine not to index a Web page or even a particular photo on a page. And if publishers want their content to be removed from Google News specifically, all they need to do is tell us."
For those who do want to allow Google searches for their content, Gaither said two models exist for that: "First Click Free" and "Previews." First Click Free lets so-called "walled garden" content be read in full by Google News users. "The user's first click to the content is free. When users click on additional links on publishers' sites, the publishers then can show a payment or registration request. It's a simple system that lets readers test-drive a news source before deciding whether to pay, and it helps publishers promote their content to new users," Gaither said.
The WSJ participates in the First Click Free program, which Murdoch may not have been aware of when he was interviewed by Sky News Australia. Newsday opts for the Previews feature, which lets publishers set the amount of free content before cutting off the story with a link to subscription information, Gaither said.
Murdoch's Experiment – or Gamble?
The WSJ's Web site is one of the only examples of a successful paid-content journalism Web site. The newspaper's reputation — and political ideologies — may have a lot to do with that, said David Domke, journalism professor at the University of Washington.
"The WSJ's success can be interpreted in one of two ways — people will pay for quality business-focused information, or people will pay for a conservative view on business and society," Domke told the E-Commerce Times. Murdoch's proposed action will attempt to move his approach a step further — to not let anyone see the conservative and/or business news that is produced by his news organizations. "Given the WSJ's success, I think this is a best-case test scenario for whether for-pay online news can make it," he said.
"It's difficult to second-guess a successful media mogul like Rupert Murdoch, but this time I think it is a huge mistake removing his sites from Google," said Mark Glaser, executive editor of PBS's Mediashift blog, which tracks developments in digital and traditional journalism.
"I would wait to see all the details on what he is proposing, but most sites get the most traffic referred from Google searches. Even with a pay wall, that means he is cutting himself off even from people who are curious about topics his sites might cover, or leads for new people to pay for the content. I don't really understand this strategy, unless he is unveiling a new search engine that could seriously compete with Google," Glaser told the E-Commerce Times.