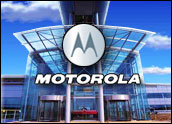 Motorola announced a new round of layoffs as it reported a 15 percent decrease in revenue during the third quarter on Thursday.
"Approximately 3,000 employees will be affected globally across all businesses and functions," company spokesperson Maya Komadina told the E-Commerce Times.
The company also said it will postpone the spinoff of its wireless devices unit until some time after 2009.
The No. 3 handset manufacturer reported a loss of US$397 million in the third quarter, down from a profit of $40 million during the same period a year ago. Motorola reported $7.48 billion in revenue, below average analyst estimates of $7.8 billion.
Wireless Refocusing
The company's results in the mobile handset division, run by Co-CEO Sanjay Jha, were equally abysmal. It shipped 25.4 million handsets in the third quarter, compared to 37.2 million handsets during the same period a year ago.
The unit's revenue fell 31 percent to $3.1 billion, while its operating loss ballooned to $840 million from $248 million. Jha warned that the company's fourth-quarter earnings would also miss analyst expectations. Motorola's stock was down 7.14 percent to $5.07 per share in mid-day trading on the New York Stock Exchange.
The bad financial news comes just one day after reports that Motorola has scrapped several internal mobile software projects in favor of Google's open source Android architecture, Microsoft's Windows Mobile operating system and Motorola's own P2K mobile platform. Those plans are now evidently in limbo.
Motorola has been beset by problems since 2006. Including the latest layoffs, it has cut 13,000 jobs in an effort to conserve cash and streamline its various businesses since early 2007.
Not Ready for Spinoff
Motorola's decision to delay the spinoff of its mobile devices unit may have been prudent, said Carl Howe, a wireless analyst at the Yankee Group.
"They decided to refocus the unit around Android and Windows [Mobile]," he told the E-Commerce Times, "and I think they've decided not to spin it off until they've got it focused."
One of the reasons a company executes a spinoff is to focus people on just one business, Howe said.
"One of the challenges for the mobile handset group is they're in the middle of a company with a lot of different businesses," he explained. "[Motorola] sells radios to first responders and the military. Those businesses are very different from the business-to-consumer world, which is so dependent on marketing."
Howe said it's rare for any company that has a very successful business-to-business segment to also have a successful business-to-consumer segment.
"The B2B business is somewhat more stable, and that's because it doesn't depend upon the whims of consumer fashion," he said. "Remember, it wasn't that long ago that the Razr was the hottest phone on the market."