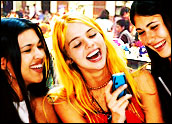 Number two handset maker Motorola has said it will pre-install applications meant to make it easier for users to access Yahoo Web content from mobile devices, the latest in a line of partnerships designed to bring the Web to consumers wherever they go.
Motorola said yesterday that a line of phones, smartphones and other products using the Linux and Java platform would be available starting in early 2006 with Yahoo products and services pre-installed. The alliance also extends to Motorola's iRadio product, which is meant to be a go-anywhere radio service akin to satellite radio, using phones as receivers that work at home, in cars or when being carried.
"Many of our operator customers have asked us for easier access to the types of Yahoo services consumers know and love," Ron Garriques, president of Motorola's Mobile Device business, said.
Win for Everyone
Garriques said the alliance helps Motorola by expanding what it can offer mobile carriers, who in turn can boost their revenues by offering their customers a wider range of Internet services.
Pre-installation is seen as a winner by analysts because it eliminates the need to download programs to a handset, a sometimes time-consuming prospect on some traditional cellular networks and one that can eat up airtime minutes.
Marco Boerries, a senior vice president in Yahoo's Connect Life business unit, said the move is part of a push to "further extend Yahoo's presence beyond the desktop and onto millions more mobile devices, into the home and even into the automobile."
Analysts say such deals are wins for everyone involved, with handset makers gaining an edge that might help them sell more devices to carriers and indirectly to consumers, carriers gaining a wider menu of services for which they can charge and content owners, like Yahoo, gaining new distribution channels.
In the case of Yahoo and Motorola, one prized piece of real estate might be the iRadio franchise. Though only scheduled to reach market in 2006, the service could become a platform for Yahoo to push its own menu of music services, including Music Unlimited, which offers 120 channels of preprogrammed commercial-free music.
Picking Sides
The partnership will also offer Yahoo broader reach for a range of other services it offers through the Web, including e-mail, messaging and various types of vertical search. Yahoo had previously struck a deal with Nokia, the world's largest handset maker, that will see Yahoo tools pre-loaded into certain smartphone lines.
Those alliances might become increasingly important as Yahoo looks for ways to grow amid fierce competition with search rival Google. Yahoo's latest earnings report served as a reminder to some that Yahoo is locked in a battle with Google for market share and advertising dollars.
Search analyst John Battelle noted that Yahoo also announced today a partnership with Boeing that will have Yahoo search features included with on-board Internet services that Boeing is adding to new airplanes. Yahoo, Google and other search players will leave no possible avenue to reach consumers with their search tools unexplored, he added.
Skipping the Browser
However, how best to make the Internet accessible from mobile devices has long been a difficult question for handset makers and network operators alike. Network operators have now come to see data services as an important additional menu item to offer users and they recognize how pre-loading certain tools can spur use.
Handset makers, meanwhile, are no longer afraid of partnering with content owners and existing Internet companies, recognizing that far from narrowing how their devices can be used, such deals might enhance their profile with carriers and consumers.
The major Web players have raced to be first into that space. In fact, as Yahoo announced the Motorola deal, AOL said it had begun testing AOL Mobile Search Services, which will search the Web and translate large graphics-heavy Web pages for viewing on smaller mobile screens.
Also, just last month, Google said it had struck a deal with T-Mobile to have Google's search tools loaded onto that company's handsets.
All of those moves are predicated on the notion that consumers will expand how they use mobile phones, making them mobile-commerce and entertainment devices rather than the utilitarian communications tools they have long been seen as.
Though some early services are gaining traction and devices are converging rapidly, some analysts are not convinced that the mobile phone will be the device where users play music, interactive games and do online buying.
Others, though, say some Web content is a natural fit for mobile handsets, including streaming music and search functions that can help people find businesses, people and places.
"Certain things just naturally go together, and satellite radio, and music in general, and cell phones are a perfect combination for certain customer groups," independent telecom analyst Jeff Kagan told the E-Commerce Times.