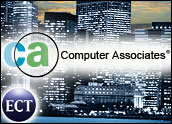 In a move to extend its eTrust security management solutions portfolio, Computer Associates yesterday announced it has acquired e-mail security software vendor Qurb in an all-cash transaction. Terms of the deal were not announced.
The acquisition adds spam-blocking capabilities designed to protect people against phishing attacks, e-mail fraud and other e-mail-based threats to data and privacy. CA has licensed Qurb technology for its eTrust consumer product line since 2004.
Expensive Threat
Spam is becoming increasingly costly and dangerous as spammers deliver more virulent payloads through e-mail attachments. According to a recent IDC study, the volume of spam messages sent daily worldwide jumped from 7 billion in 2002 to 23 billion in 2004.
"Computer users everywhere — from the CIO responsible for tens of thousands of employees to small businesses and individuals — are desperate to get control over their inboxes," said Toby Weiss, senior vice president and general manager of CA's eTrust business unit.
Weiss said Qurb's identity-based e-mail security technology delivers that control while also protecting against inappropriate use of the Web by employees.
Spam Battles
The acquisition of Qurb closely follows CA's acquisition of desktop firewall solutions provider Tiny Software. CA said both acquisitions broaden its penetration into the consumer and SMB markets, while supporting its enterprise customers with enhanced desktop security management capabilities.
Specifically, Qurb helps to stop spam upon installation without requiring any manual configuration. Qurb automatically builds a list of approved senders by scanning existing e-mail and contact folders. It then uses an identity-based approach to ensure a clean inbox, while applying content analysis techniques to help users identify potentially legitimate messages that have been quarantined.
A Necessary Component
Jonathan Spira, CEO and Chief Analyst at Basex, a research and consulting firm that named spam its "product of the year" last year, citing a US$20 billion worldwide impact on IT spending and productivity, told TechNewsWorld that an anti-spam acquisition was a necessary addition to CA's product line.
"CA needed to add anti-spam technology to its portfolio, as customers are increasing concerned with the impact that spam e-mail can have on their organization, as well as what phishing scams and other e-mail based fraud can wreak," Spira said.
Analysts said only time will tell if Qurb is a good fit. CA has a history of acquiring technologies and companies, but the company's record of integrating them into a uniform offering and platform is spotty, according to Spira.
Will the security market continue to see more acquisitions like this one? "In terms of the IT market, it is beneficial for customers as well as IT vendors to join forces through acquisition," Spira said. "Many customers are wary of buying technology from smaller companies; an acquisition by a larger concern alleviates this."