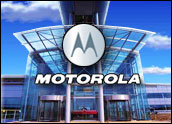 Motorola's board of directors is urging shareholders to be wary of supporting an effort by billionaire investor Carl Icahn to secure a seat on the company's board.
Motorola filed a notice with the Securities and Exchange Commission (SEC) on Friday setting the date for its annual shareholder meeting for May 7. In that notice, which was also distributed directly to shareholders, the board mentioned Icahn's interest in being elected.
In January, Icahn notified Motorola that he would seek election to the board. He said that if elected he would push for a stronger turnaround plan for the firm, which has seen its market share and profits slip in recent quarters.
"The Board urges you not to sign any proxy cards sent to you by the Icahn affiliates," said the notice, signed by the board's Secretary, A. Peter Lawson.
The board also provided a card that enables those who have already signed proxy cards — which turns over the right to cast a shareholder's vote to a third party — to retract those proxy designations.
No Support for Icahn
The filed notice was the first formal indication that the Motorola board does not support Icahn's efforts to win a seat and, by extension, does not support his influence over the company's future direction.
In late January, when his intentions to become a director at Motorola were made known, Icahn owned about 1.4 percent of all Motorola stock — or about 33.53 million shares. He has since filed public notices of his intent to acquire additional shares both as an individual and through Icahn Partners.
Those filings said Icahn's interests were prepared to spend up to US$1 billion more to acquire additional stock, but would stop short of boosting its holdings beyond 25 percent of the total outstanding shares.
Icahn, who is well known as the harbinger of corporate change, often uses his shares as leverage to force changes in companies — sometimes very radical change. Often, he focuses on returning more money to shareholders.
For example, Icahn has been seen helping to convince Time Warner to put an extra $15 billion into a stock buyback program, to take steps to cut $1 billion a year in expenses and to allow more outside directors on that company's board.
Though he is often good for companies, with a track record of boosting share prices, many boards have feared Icahn's involvement since he burst onto the scene in the 1980s by reinventing Trans WorldAirlines (TWA). That success was short-lived, however — after Icahn split TWA into parts and sold off some assets, TWA floundered into bankruptcy before being purchased by American Airlines.
If Icahn Was On the Board…
At Motorola, Icahn would most likely focus on CEO Ed Zander's plans to revive the company's flagging profit margins and reinvigorate its handset product line. Motorola has been looking for a successful follow-up to its now two-year-old Razr line. Without a hit product, Motorola was forced to cut prices last year in order to move inventory, which weighed on profit margins.
Another question may be one of focus, as Motorola has also made investments in its enterprise technology division, buying an RFID firm and other technologies to become more of a player in large businesses that need help with communications and wireless networking.
Icahn may call for a major restructuring that could involve separating the company into different units and even spinning off some assets, possibly even creating a standalone handset company.
"This puts pressure on Zander to make more aggressive changes," telecom analyst Jeff Kagan told the E-Commerce Times.
The company's problems could be quickly solved if efforts to sell Razr follow-ons take root. One such effort involves partnership with online music companies, including Yahoo, though that market may prove a difficult one to crack, what with the Apple iPhone due out in about three months, Kagan noted.
"Motorola could be one hit phone away from having a great year," he added.