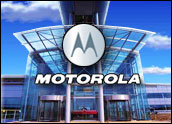 Billionaire investor Carl Icahn has announced his intentions to seek a seat on the board of directors of No. 2 mobile handset maker Motorola.
The company said Tuesday it had received notification from Icahn that he intended to have himself nominated for one of 12 seats on the company's board when it holds its next annual shareholders meeting. That meeting has not yet been scheduled for this year.
Icahn told Motorola he owns about 33.5 million shares, or about 1.4 percent of the company. Based on current share prices, Icahn's stake is worth around US$650 million.
Motorola, the only major cell-phone maker based in the United States, said Icahn's notice "contained no additional information regarding his intentions."
"Motorola is reviewing the notice of nomination," the company stated.
The move likely signals that Icahn believes Motorola has the potential to be far more valuable than it is today, either because investors undervalue the company or because it is not being managed to its full potential. Icahn may also be eyeing Motorola's significant cash reserves, which grew to about $11 billion at the end of 2006, and if elected may demand that the company put that money to better use in order to solidify its market position.
Motorola shares rose sharply on word of Icahn's interest, rising more than 6 percent in morning trading Tuesday to $19.46.
Icahn's Track Record
Icahn has a long and varied record as an investor and agitator for change, often using his own stakes in companies as leverage to demand significant changes in the way a business is being run.
Frequently, Icahn focuses on returning more of a company's earnings and cash reserves to investors.
For instance, as a result of his recent battles with executives at Time Warner, the media conglomerate said it would invest an additional $15 billion in a stock buyback program and cut $1 billion in expenses this year. It also agreed to elect more outside directors to its board.
Icahn owns around 3 percent of all Time Warner stock and had been threatening to align with other investors to elect a new slate of directors and push through a plan to split the company up into four separate entities, including a spun-off AOL.
Icahn also used his ownership stake to halt pharmaceutical company Mylan Laboratories in its efforts to acquire rival King Pharmaceuticals. Icahn argued the price was too steep and, in the end, the company abandoned the takeover plans.
In addition, he forced the interim CEO at ImClone to resign after taking a seat on that board.
Icahn's first high-profile foray into boardroom gamesmanship came in the mid-1980s, when he took control of Trans World Airlines (TWA). That success was short-lived, however. After Icahn split the company into parts and sold off some assets, TWA floundered into bankruptcy before being purchased by what is today American Airlines.
At Motorola, Icahn would most likely focus on the cash stores as well as profit margins.
Facing Challenges
Motorola CEO Ed Zander has pledged to improve profit margins in Motorola's handset business, one of three operating units at the company alongside networking business and enterprise divisions. So far, those efforts have run into strong headwinds from the handset industry, where shifting demand patterns and price cutting has kept profits low even as sales grow.
For starters, Motorola is shipping more handsets to developing economies, where lower-cost phones are favored. At the same time, it has been forced to cut prices on its bestselling phones, notably the Razr, in order to move inventory and as rivals such as Nokia discount their own phones.
Zander has taken action aimed at cutting costs and streamlining Motorola, recently saying he would slash 3,500 jobs — about 5 percent of the company's worldwide workforce.
Aggressive Moves
It is not clear whether Icahn currently has enough shares and clout to earn a board seat, but Tuesday's stock price surge suggests a strong undercurrent of support for more drastic action.
"Icahn seeking a seat on the board is likely to be viewed as the first step in a process of restructuring the company, including possibly a recapitalization or a breaking up the company," Kaufman Bros. analyst Raimundo Archibold Jr. wrote in a research note.
Icahn is "putting pressure on Zander to make more aggressive changes at Motorola," Telecom analyst Jeff Kagan told the E-Commerce Times.
Kagan said Motorola could quickly reverse its own fortunes even without Icahn's prodding. Like a movie star in a long drought between hit films, Motorola could be just one big hit device away from being back on top.
"The Razr was hot and Motorola rode it back to life, but no one device lasts forever and they desperately needed a follow up piece or the flame would go out, and it is sputtering a bit," Kagan said. "This problem doesn't have to be a long-term issue. They have been riding the same wave called Razr for the last couple years. Its time to switch and add to the mix with other winning devices."