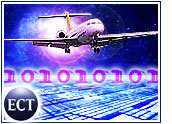 Southwest Airlines confirmed Monday that it has stopped offering its flights through online travel company Travelocity (Nasdaq: TVLY) — the second jolt to Travelocity's operations in less than a week.
On March 1st, Northwest Airlines and KLM Royal Dutch Airlines stopped paying commissions on Internet ticket sales in the United States and Canada.
According to published reports, Southwest stated that its decision was based on the need to remedy customer service problems resulting from ongoing ticket confirmation mix-ups on Travelocity.
The problems reportedly stemmed from Travelocity's inability to directly access Southwest's seat inventory. In certain instances, Travelocity customers inadvertently purchased tickets to flights that had already been sold out by Southwest.
"It was a customer service issue because when this would happen, people would go to the airport and they'd be mad at us and Travelocity," Southwest vice president of interactive marketing Kevin Krone told industry press.
No Commission Loss
Unlike Northwest and KLM, Southwest never paid commissions to Travelocity for flight listings.
According to Southwest, less than 1 percent of its online ticket sales came from Travelocity, while 30 percent of the airline's total bookings are sold via Southwest's own Web site.
Travelocity responded to the Northwest announcement by implementing service fees of US$10 on tickets for Northwest Airlines and KLM. Industry analysts expect such fees to become common on online travel sites.
Expedia Responds
Another major online travel player that will lose out on commissions from Northwest and KLM is Expedia (Nasdaq: EXPE). However, Expedia told industry press Monday that it does not foresee a direct sales impact resulting from Northwest's decision.
Expedia said that airline ticket commissions represent less than a quarter of its overall business, and that the company will be expanding its travel services to include bookings for cars and hotels.
"On a large majority of our business, we don't care about commissions for our revenues," Expedia president and chief executive officer Richard Barton told Reuters. "We're feeling very confident about achieving profitability in the June quarter of 2002."
Barton added that a growing segment of Expedia's air ticket revenues are expected to come from price markups on special fares that are negotiated directly with the airlines.
Shares Mixed
Expedia investors seemed to agree with Barton's prognosis. Shares of the Expedia rose $1.63 Monday, or 12.5 percent, to close at $14.63.
However, on the heels of the Southwest announcement, shares of Travelocity slid 75 cents to $14.13.
Last week, analysts at Legg Mason Wood Walker downgraded Travelocity and Expedia to market perform. The analysts said that they expect Expedia to match Travelocity's fee charges or stop booking Northwest tickets.
Summer Heat
Most travel retailers — both online and off — are worried about the competitive threat posed by the scheduled summer launch of Orbitz an online travel site backed by 30 airlines.
Northwest, along with carriers including United Airlines, Delta Air Lines, Continental Airlines and American Airlines, is a charter associate of Orbitz. Southwest is not listed as a charter associate on the Orbitz site.
In addition, offline travel agencies received a boost against their online rivals February 27th when Sabre (NYSE: TSG) rolled out a point-of-sale Web portal that integrates Sabre's database of travel services with Internet content.
Sabre said that its new product, eVoya Webtop, will make it easier for traditional travel agents who use the Sabre reservation system to "compete and win in the e-commerce world."