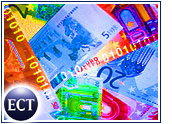 More than 20 million Europeans visited business and finance sites from their homes in May, according to research released Wednesday by Jupiter MMXI.
The Internet research firm said that most Internet banking and finance consumers were visiting local brands offering online banking, financial information, online share trading and insurance services.
"Our latest research shows that Europeans are happy managing their finances online," Jupiter MMXI finance analyst Patricia Lueer said. "The most popular banks and financial services sites are those that provide up-to-date and comprehensive content which both attract and retain users."
Lueer added: "In the future, we expect to see a reduction in the amount of free content available. The Internet pure plays, as well as the banks and brokers, will have to charge their users for premium content, such as in-depth background research and real-time quotes."
Nordic Logs
The Nordic region won top honors for the percentage of Internet users visiting business and finance sites. Almost 60 percent of Sweden's online population, or 2.6 million people, visited banking and finance sites from work or home during May, according to Jupiter.
Jupiter also found that 1.2 million, or 56.4 percent of online Norwegians, and 1.11 million, or 45.1 percent of Danes online, visited business and finance sites from home in May.
In France, 3.11 million Internet users, or 38.2 percent, visited online banking sites.
The number of Internet users visiting online banking sites in other European countries in May were: Spain, 1.56 million, or 37.5 percent; Italy, 2.7 million, or 31.9 percent; and Switzerland, 0.61 million, or 27.9 percent.
Staying Online
Winning top honors for the amount of time spent online is Germany. Jupiter found that German Internet users spent 61.3 average minutes per unique visitor on business and finance sites.
According to Jupiter, the reason for the boom is that in Germany, Web sites offering online stock purchases and stock market information are more popular than sites of traditional banks.
Visits to both traditional banks and sites offering financial information pushed the average visit length for Italians to 58.3 minutes and in Spain to 54 minutes.
The French spent the least amount of time at business and financial sites, averaging 31 minutes, with Britons logging on for 32 minutes. Residents of Denmark and Norway spent 37.1 minutes and 40.8 minutes, respectively, at online financial sites, the report said.
Top Gainers
Countries showing the highest gains in the number of Internet users logging on to business and financial sites were France, the UK and Germany.
The number of French Internet users logging on to business and financial sites more than doubled from 18.5 percent in May 2000 to 38 percent in May 2001, when 3.11 million users logged on.
In the UK, the number of Internet users visiting finance sites increased by 28 percent from May 2000 to 36 percent, or 5.24 million. In Germany, the reach of business and finance sites increased by 19 percent to 35.7 percent, or 4.73 million users, in May 2001.