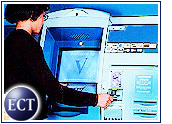 7-Eleven (NYSE: SE) said Thursday itwill install Internet-enabled financial service kiosks in 36 stores in FortMyers and Naples, Florida, as part of an expanded test of financial servicesthat may eventually include online shopping.
The convenience-store chain already has Web-ready machines in 58 of itsTexas stores, and customers have "responded well" to the idea, the companysaid.
The new kiosks are designed to let customers buy money orders, transferfunds, pay bills and cash checks, and also handle traditional ATMtransactions.
The kiosks — known as Vcom machines — were developed with NCR and Mosaic and run onMicrosoft NT software with an Internet browser.
Going Wide
7-Eleven, which says it runs the largest chain of stores in the convenience retailing industry, said itexpects to expand the Vcom offerings to include touch-screen access toservices like ticketing, travel directions and road maps — and possiblyonline shopping services, in conjunction with the distribution centersserving 7-Eleven stores.
John Harris, vice president of 7-Eleven's Florida division, said the companychose Fort Myers and Naples because the stores in those cities do a briskbusiness in financial products like money orders.
"While Vcom services will appeal especially to the 'under- and unbanked'population, past experience has taught us that a broad range of individualswho already have bank accounts like the convenience of 24-hours-a-day,365-day-a-year access," Harris said.
The kiosks use a menu-driven system in English and Spanish, as well as aphone that provides access to bilingual customer service representatives, 7-Eleven said.
Next Step
The convenience store chain has already waded into the financial services pool. According to 7-Eleven, its U.S. stores sell US$4 billion worth of money orders each year,and automated teller machines (ATMs) in its stores handle 105 million transactions annually.
7-Eleven said it is in negotiations with several "premier companies" to secure national contracts for additional Web-based services that its consumersmay want, including banking and e-shopping. Depending on which deals are closed, the Vcom machines may also offer such services as branch banking, vehicle registration, credit reports, loans and insurance, 7-Eleven said.
The company said it currently uses American Express to provide ATM services,Western Union for money orders and money transfers, and that it recently signed anagreement with Equifax to handle the check-cashing portion of the Vcomservices.
After the Test
If all goes well with the tests, 7-Eleven said, it will bring Vcom kiosks to its stores across the U.S. beginning later this year. Consumers couldeventually use Vcom to order books, CDs and other products and servicesusing 7-Eleven's existing distribution infrastructure, the company said.
"We believe that Vcom can help us build upon our existing offerings toprovide customers with convenient and trustworthy access to other financialand Web services," said Harris.
7-Eleven has more than 21,000 stores in the United States, Canada and 18other countries and U.S. territories. The stores accounted for $29 billionin sales last year, according to the company.