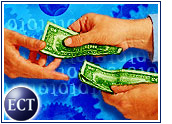 TMP Worldwide, the parent company of job site Monster.com, has paid US$800,000 for rights to acquire the Jobs.com domain name and trademark from a defunct competitor.
TMP said the bankruptcy court purchase will give its family of job search sites an immediate traffic boost. The company cited Media Metrix statistics that show Jobs.com drew 400,000 monthly visitors as recently as February of this year, even though the site contained only a message saying its owner was reorganizing.
In comparison, Monster had 43 million unique visitors in March, making it the 23rd busiest site on the Web. That means the Jobs.com traffic would represent a gain of less than 1 percent per month.
Umbrella Site Opens
But Monster CEO Jim Treacy said the Jobs.com site will serve as "a launching pad" and a "gateway" to all the company's interactive properties.
"The broad generic appeal of Jobs.com maps perfectly to our intern-to-CEO strategy of serving the entire spectrum of online job-seekers," Treacy said. "We see it playing a significant role in a number of existing and future online job initiatives."
By early Friday, the Jobs.com site had become an umbrella site for all the company's job sites, including Monster.com, FlipDog.com and TriStateJobMatch. They are the first in what is expected to be a string of locally focused job search sites.
"Jobs.com is a desirable URL," Monster founder and chairman Jeff Taylor added, noting that the site is the most logical place for new Web surfers to go for career information.
Dot-Money Redux
Although expensive by recent standards, the price paid for Jobs.com pales in comparison to some URL price tags during the peak of the dot-com boom, when Business.com sold for $7.5 million and Loans.com sold for a then-record $3 million.
Meanwhile, easily recognizable domain names like eToys.com and Pets.com have been bought in bankruptcy court by former rivals and put back in business, often with good results.
Jobs.com filed for bankruptcy protection in March 2001. The site had been fueled by about $100 million in venture funding from Idealab, CBS Television and others, but cited a fiercely competitive marketplace in its decision to reorganize.
Head to Head
The domain purchase was announced just hours after Yahoo!, which in December outbid TMP for the right to buy HotJobs.com, said it has taken the first step toward integrating the career site into its portal.
Yahoo! said that as of Thursday, HotJobs will be the exclusive provider of job listings to the Yahoo! Careers site, ending the portal's longstanding relationship with CareerBuilder.com.
Yahoo! added that HotJobs listings will be available through its family of Get Local sites, which provide listings and information on thousands of U.S. cities.
Monster is taking a similarly local approach with its Jobmatch offering, saying it hopes to target hourly wage-earners and temporary help, job categories largely ignored by online career listing sites.