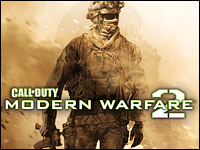 If Activision is to be believed, then its new "Call of Duty: Modern Warfare 2" video game has blown away all competition with the lethality of a Javelin missile plowing through Russian terrorists. Included in the smoking wreckage: not just previous gaming bestsellers like "Grand Theft Auto IV" and "Halo 3," but also the mangled corpses of Batman and Harry Potter.
The company announced Wednesday that "MW2" made US$550 million worldwide in its first five days of sale. Activision says that makes it the "biggest entertainment launch in history." The figure tops "GTA IV's" previous record-setting number of $500 million, but Activision also gives a list of the following benchmarks in other media that "MW2" has bested:
"The Dark Knight" — $203.8 million in five-day domestic box office gross, $66.4 million in first-day receipts
"Harry Potter and the Half-Blood Prince" — $394 million in global box-office gross
Harry Potter and the Deathly Hallows — $220 million in first-day book sales
Xbox Live has also felt the heat from "Modern Warfare." Online multiplayer gaming was responsible for more than 2.2 million unique gamers and 5.5 million hours of gameplay on Microsoft's service, according to Activision — and that's all in the first day of release.
Activision gave no estimates for total units sold, but analysts have told media outlets they guess the number would be somewhere between 11 million and 13 million. Industry measurement group NPD told the E-Commerce Times that its sales figures were not available yet.
That didn't stop Activision CEO Robert Kotich from throwing down the gauntlet to all companies vying for consumer leisure-time dollars. "In just five days of sell-through, 'Call of Duty: Modern Warfare 2' has become the largest entertainment launch in history and a pop culture phenomenon," Kotick said. "The title's success redefines entertainment as millions of consumers have chosen to play 'Modern Warfare 2' at unprecedented levels rather than engage in other forms of media."
Apples vs. Other Media Oranges?
Kotick indeed has a monster hit on his hands and can be forgiven for doing some crowing during a tough year for the gaming industry. "MW2" is getting rave reviews from the gaming press for its gameplay, visuals and the strength of its storyline. However, is it fair to compare a $60 video game with many hours of replay value with a $10 ticket for a two-hour movie?
"Because of the price point and pre-orders, it can be easier for games to achieve bigger sales figures early on," Michael Cai of Interpret told the E-Commerce Times. "Movies have more ways for monetization in addition to box office revenue, so they have a longer tail. The bigger story here is how some of the game franchises have grown in the past 10 years, and game sequels are becoming significant revenue generators. I think the comparison to movie releases is fair in the sense that consumers look at gaming and movies both as entertainment forms, so the two do compete for mind share, time share and wallet share."
However, it's more a question of how many are watching/playing vs. what they're paying, according to gaming industry consultant Mark DeLoura.
"I'm always a bit dismayed by comparisons against the movie box office receipts," he told the E-Commerce Times. "I mean, yes, great, I'm very happy it did better than the 'Dark Knight' box office. But when you count the number of people who are experiencing each entertainment, it is quite different. Divide the numbers by $60 for a game, or $10 for a movie. That's a substantial difference in the number of people. I'd love to see comparisons of the number of people playing 'MW2' vs. a comparable movie — what movie had a similar number of people watching it on opening weekend?" he added.
Franchise Tentpoles
"Activision is right to wave the flag of awesomeness from the rooftops simply because 'MW2' is a huge undertaking," gaming guide author David Hodgson told the E-Commerce Times. "It's a huge success, economy considered. But it's difficult to compare media launches to each other because of how disparate the costs are."
The game can be compared to the movies in one key point, one made earlier by Cai: the strength of franchises and known properties. Batman, Harry Potter, Transformers, Spiderman all have equivalents in "Halo's" Master Chief, the "Gears of War" characters and the heroes (and villains) of "Modern Warfare 2." Moving the "Call of Duty" franchise from World War II-era shooters, where the franchise began in 2003, to the present day made a big difference, Hodgson said. "It was more relatable. The weapons are much more advanced. There's no denying 'MW2' is an incredibly action-packed and addictive game. But it really comes into its own with the multiplayer game. That's where it has replayability. There's a load more unlockables compared to the previous game."
Blowing Away the Casual Games
How can a first person-shooter geared toward hard-core gamers reach such levels of success in a Wii-centric, "Rock Band," casual gaming world? The comparisons to "GTA IV" are apt, Hodgson said, since that game and "MW2" share controversial aspects regarding their violence, and that always helps stoke sales.
"These games are very popular because they put you into situations that sometimes members of the armed forces encounter, but not many other people will encounter. There's almost like an adrenaline surge that's greater for a realistic type of game because you're likely to die more realistically. In games set in the future, you always have your power armor, you can hide behind a wall and recharge. In 'Modern Warfare 2' you're just a guy that bleeds."
In that kind of environment, casual games don't stand a chance, Cai said. "Wii and family-oriented games don't follow the same pattern as core games such as 'MW2,' which has a solid base that is eager to get the game during the first day or week. First-person shooters will continue to be a popular genre in the U.S. and Europe, and the total fan base will only get bigger as new and younger gamers are introduced to the game."
Activision should share more credit with "Modern Warfare" developer Infinity Ward, both Hodgson and DeLoura said. The game's marketing also deserves a tip of the hat, DeLoura added. "The campaign was managed extremely well, leaking out little tantalizing bits over time, and the technology in 'MW2' blows my socks off. From my perspective, I am continually impressed that this team can create such beautiful visuals and in such diverse environments in one game. It's no small feat to pull off a bunch of different types of environments and have them all look great — it takes a lot of time and can be very expensive," DeLoura said.