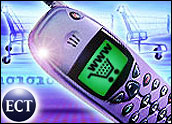 A year after Asian mobile carriers first launched them widely, consumers are still not rushing to adopt systems that enable mobile phones to be used as electronic payment devices.
NTT DoCoMo launched a wallet phone service in its native Japan last year and more carriers have announced plans to follow suits in key Asian markets. Meanwhile, MasterCard and Motorola have been working quietly on new technologies for nearly a year now that will help make the cell phone a payment device as well as a personal identification tool. Visa International also has linked with mobile carriers on two pilot programs in Asia.
But analysts acknowledge that despite high hopes for the service, it may still be several years before the technology finds its way into the mainstream.
A recent survey by research firm In-Stat found little interest or demand among consumers for cell phone services such as electronic wallets.
"Some of those opinions will shift with time," said In-Stat analyst Neil Strother. "Enthusiasm could build for services that do not poll well today. But it will be up to manufacturers and carriers to help move end-users to more favorable views."
Moving Westward
Often, mobile services get their first adoption in Asian marketplaces where more advanced mobile infrastructure is in place. That's happened with mobile gaming and mobile television and appears to be happening with using cell phones as a payment device.
NTT DoCoMo recently reported that some 3 million cell phone users and 20,000 retailers and other vendors are signed up for its Mobile Wallet offering.
While early tests show consumers spending an average of US$30 or more on each cell-phone charge, many analysts believe the best chance for mobile payments to gain traction is with so-called micro-payments, with users buying content such as song downloads, ring tones, games or video clips.
A recent study by Juniper Research argued that the mobile commerce will be a $40 billion industry by 2009, much of that made up of millions of micropayments. In Europe, for instance, where such payments are expected to take hold before they reach the U.S., the average cell phone users will conduct nearly 30 transactions per year on a mobile handset, but with an average transaction value of just $3, according to Juniper.
Security a Concern
Analysts believe resistance may be highest in the U.S., where concerns about security and identity theft are at the forefront.
Telecom analyst Jeff Kagan said U.S. consumers will warm slowly to using cell phones in new ways, with new blended phones such as the iTunes smartphone being built by Apple and Motorola helping to push consumers in that direction.
"But it's still early," Kagan told The E-Commerce Times. "The number of users actively seeking out those advanced services are still very small."
In addition to overcoming consumer concerns, carriers will have to find the right technology to appeal to vendors, retailers, banks and credit card companies. Some options allow for multiple credit card numbers to be stored on a single phone, while others use a pre-paid system more like a debit card.
"The mobile phone will be ubiquitous and carriers will offer a range of services to take advantage of that fact and generate revenue," Kagan said. "But consumers will have the final say about what works and what doesn't."