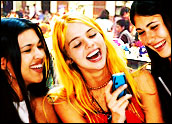 In a pair of deals that could catapult mobile gaming to new heights, Electronic Arts said it will make some of its titles available on the networks of Verizon and Sprint, two of the top three wireless carriers in the United States.
EA will make a range of games available within coming weeks via direct download to various phones and over the networks of both Sprint and Verizon.
Titles such as Madden football, Tiger Woods PGA Tour and The Sims will be among the first to be made available, along with interactive games now accessible through the Pogo.com puzzle games site, such as Tri-Peaks Solitaire, Turbo 21 and Poppit.
Verizon users with phones able to handle the V Cast video system will have access to more live-action games, including a 3-D version of EA's Need for Speed Underground 2 that the company said was custom-made for mobile handsets.
More Than a Novelty
Research firm In-Stat MDR said mobile gaming is already the third most popular use of mobile phones behind calling and text messaging. Analysts have long been predicting sharp uptake and expanding revenues as users seek a diversion during idle times while commuting or waiting in lines.
Still, to date, many have viewed mobile gaming largely as a novelty. The backing of giants such as Sprint and Verizon could change that, however, as could the arrival in the mobile world of a game-maker with the cache and credibility of EA. Published reports say EA expects the partnerships to generate as much as US$25 million in revenue per year as well — a fact that could help alter popular perceptions about mobile games.
While mobile gaming has grown faster in overseas markets where high-speed wireless networks are more plentiful, such as Korea, recent research by the Yankee Group suggests that mobile phone gaming in the U.S. alone is on track to compile about $380 million in sales this year and will be worth $1 billion annually within three years.
Download Dilemma?
Verizon users will be able to download the games through the Get Games section of Verizon's Get it Now site, a download destination where ringtones and other applications are offered for download directly to handsets. Sprint customers can obtain games from the Game Lobby site.
Downloading has long been one of the drawbacks of such games, however. Users say graphics-intensive games can take a long time to load on traditional cellular networks, though EA said that the games will download quickly, especially on the V Cast network of Verizon.
Analysts said it was important for EA to secure space on leading carriers' networks for its games as it tries to ensure it can thrive in the mobile sector, where it faces stiff competition from upstart mobile-only developers such as Jamdat and Glu.
Electronic Arts has made it clear it sees the mobile sector as an important place for it to offer its titles, recently announcing a partnership with mobile phone technology maker Qualcomm to develop new games. EA has also been rumored to be considering buying Jamdat, though analysts downplay the likelihood of that move, especially now that EA is poised to launch its own mobile title library.
Opening the Virtual Wallet
The broader adoption of acquiring mobile games might also be a good omen for those hoping that other forms of mobile commerce will take off. If users trust a mobile network enough to pay to download a game from their carrier, it's easy to see how that trust level can be expanded to new areas.
Most analysts say after mobile games, mobile music will be the next big area of m-commerce to begin to get traction with consumers. Many believe direct-to-phone downloads of full-length songs will become as popular as downloading for use on MP3 players, and cite the explosion of interest in song ringtones as evidence.
Following close behind will be video clip downloads and other forms of mobile entertainment.
Telecom analyst Jeff Kagan told the E-Commerce Times that mobile carriers and content owners are finding their interests more aligned than ever before. No longer do carriers try to keep non-exclusive content off of their networks; those who control content recognize that users will want access to it wherever they go.
"These new revenue streams are going to be important to all carriers going forward," Kagan said. "Carriers will distinguish themselves with their menu of services, some of which we probably can't even imagine yet."