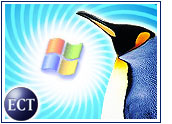 Microsoft has released Virtual PC 2004 to manufacturers, completing a lengthy product-customization process that began when the software giant acquired Connectix earlier this year.
The Redmond, Washington-based company also said it will lower the sticker price of Virtual PC dramatically — by US$100, to $129 — and predicted the product will be ready for sale by the end of this year. Most customers who hold licenses to Connectix' older Virtual PC products will be eligible for free upgrades.
Linux Okay
Microsoft indicated that the new version will enable Linux to be one of the alternative operating systems run by the virtualization software.
However, the main goal of the product is a bit different. The company appears poised to market Virtual PC to enterprises that have avoided upgrading to newer versions of Windows, often because they are running legacy applications that may crash on newer versions of Windows XP.
Microsoft vice president Rob Short called the product a "safety net" that will make it easier for companies to migrate to Windows XP on the desktop without losing the benefits of older software programs.
"Our enterprise customers have told us that virtual machine technologies are crucial for their migration needs," he said in a statement.
First of Many
Indeed, Virtual PC 2004 will be the first virtualization product from the Connectix portfolio that Microsoft has updated specifically for Windows. The software giant bought Connectix for an undisclosed sum in February, saying it was responding to calls from customers for improved virtualization options.
In August, Microsoft launched an updated version of Virtual PC for Mac, which allows Apple Macintosh machines to run Windows.
Still to come is a newer version of Virtual Server. It is expected to become available to enterprises early in 2004, slightly behind schedule. Microsoft has said it expects that product to enable more widespread migration to Windows Server 2003 by companies that have been unable or unwilling to shut down Windows NT servers running older software programs.
Time Well Spent
Microsoft said it spent the eight months since acquiring Connectix doing major structural work on the Virtual PC product and conducting "rigorous testing to ensure that the product meets Microsoft's security and reliability standards."
As a result, the company said, new product features include support for as many as four network adapters per virtual machine through a graphical interface, easier copying of virtual machine information and expanded memory support, all of which will make it easier to use the product with less technical expertise.
Gartner analyst Thomas Bittman said Microsoft had been lagging in the virtualization arena before its purchase of Connectix. He added that the relative speed with which it released the first products shows how important it is that the company play catch-up.
"They're aware that competitors like VMWare are out there and have strong reputations," Bittman told the E-Commerce Times. "Obviously, Microsoft wants to be able to steer this market because they want virtual machines to be running as much Microsoft product as possible."
Nearly every large tech company in the hardware and software space, from Intel and IBM to HP and Sun, has moved to capitalize on virtualization opportunities, with many touting the technology as a less expensive alternative to new computer hardware and as a way to better utilize computing power already in an enterprise's arsenal.