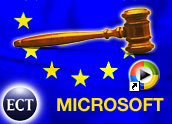 Microsoft came out swinging Monday, telling a European court that regulators made "serious errors" of judgment when they found thesoftware maker guilty ofantitrust behavior more than two years ago — among them forcing it to produce a version of Windows that consumers don't want. Attorneys for Microsoft began presenting arguments in what is slated to be a five-day hearing before the EU's second highest court.
The company is hoping to overturn the European Commission's March 2004 ruling, which imposed a record US$600 million fine and also ordered Microsoft to ship a version of Windows with no Media Player software bundled inside and to open its Windows Server communications protocols to rivals.
More Fines?
The hearing before the 13 judges of the European Court of First Instance in Luxembourg will be broken up into two segments, with the Media Player unbundling requirement expected to be the focus of the first two days and the Windows code revelation requirement likelly to take up two more. Friday has been set aside for closing arguments.
Last week, the two sides argued for two days over whether a new set of fines — $2 million per day — should be levied against Microsoft for failing to comply with the initial ruling. No timetable has been given for a decision on any of the matters.
Microsoft lawyer Jean-Francois Bellis latched onto the Media Player unbundling requirement as evidence that regulators failed to do a careful enough analysis of the software market before making their ruling. The theory that Media Player will become the sole choice of content providers to offer music and video simply because it is bundled in XP is "flawed at every step," he argued.
"There is an absence of demand for a Windows operating system without its own media functionality," he said, adding that Microsoft has since made such a stripped-down version available and, as of the end of last month, had shipped fewer than 1,800 copies worldwide — which works out to just .005 percent of all Windows XP sales.
Seeking Relief
Bellis said that EU regulators ignored evidence that contradicted its theory about what would happen to digital content over time — a charge supported by several witnesses — and he pointed to the current state of digital content as proof that no such strong-arming took place. iTunes is wildly successful as a digital music format, Bellis noted, and Macromedia's Flash has remained the dominant platform for short-run Web animation.
Surveys conducted during the run-up to the ruling showed that content providers would continue to support multiple media formats for digital content, but the findings were set aside by regulators, charged David Evans of University College London, who was called to support Microsoft in the case.
"The number of people using RealPlayer and QuickTime actually increased from the time the alleged abuse began," Evans said.
Another Microsoft supporter is the Association for Competitive Technology (ACT), which represents mainly smaller IT companies. "It cannot be an abuse to fail to provide a product that no one wants," the group's attorney, Kelyn Bacon, told the court.
Important Step
The court has wide discretion, including the ability to set aside part or all of the EC's ruling against Microsoft. Since Microsoft has already paid the hefty fine, it is not arguing to have that part of the decision tossed.
If the court upholds the ruling or key parts that Microsoft feels harm its ability to compete in Europe, it can appeal again to the European Court of Second Instance.
The EC was expected to begin its own arguments later Monday. Supporters of the decision laid out their arguments in favor of keeping it in place before the hearing began.
"On the eve of this five-day hearing, it is important to go back to basics," said Simon Awde, chairman of the European Committee for Interoperable Systems, which represents software makers including IBM and Red Hat. "This case involves a clear abuse of market power by a super-dominant company using its monopoly power in one market — PC client operating systems — to foreclose competition on the merits in two others — media streaming applications and work group servers."
That group plans to argue that the current market state is irrelevant, because Microsoft was found to have attempted to leverage its virtual operating system monopoly to lock out potential competitors.
Some are beginning to question whether an adverse ruling from the current hearings — requiring still more appeals and legal action — would cause additional delays in the release of Windows Vista. The EC has already warned Microsoft about that operating system, which builds in even more functions, such as Web search capabilities.
Major deployments of Vista across enterprises are not expected before early 2008, Gartner analyst David Mitchell Smith told the E-Commerce Times.
"If Microsoft misses its fourth quarter 2006 window, further slippage and more delays are possible," he said.