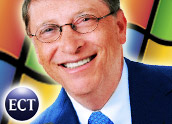 Chinese President Hu Jintao met withMicrosoft Chairman Bill Gates and toured thesoftware giant's Redmond, Wash., headquarters Tuesday. The meeting comes shortly after Microsoft announced deals that will ensure its Windowsoperating system will be featured in millions ofPCs sold in the world's largest country.
The Chinese leader and Gates did not publicly discuss the more sensitive subjects in the relationship between Microsoft and China, such as still-rampant software piracy and China's strict censorship policies. Those issues have led to harsh criticism from U.S. lawmakers and others directed at Microsoft and other U.S. companies doing business there.
Mutual Friends
Government-run publications in China, however, said Hu assured Gates that China would continue its efforts to enhance protections for intellectual property and that the country would welcome additional investments from Microsoft.
During the public part of their meeting, Hu called Gates "a friend of China" and said he was a "friend of Microsoft."
"I am dealing with the operating system produced by Microsoft every day," he added.
Gates said China and Microsoft have a "fantastic relationship," and he offered Hu his personal assistance with running Windows-based PCs.
The niceties aside, the meeting was rife with symbolism as Hu began his tour of the U.S. by stopping at Microsoft headquarters, where he got a tour of Microsoft's Home of the Future display, glimpsed other products in development and met with other executives, including CEO Steve Ballmer. Later he had dinner at Gates' home along with about 100 others.
Naked No More
The meeting came just a day after China put pressure on its domestic PC makers to stop shipping so-called "naked" PCs, or computers without operating systems installed. Such machines are said to encourage piracy by providing consumers with strong motivation to buy low-cost, unauthorized copies of Windows and other programs.
That policy laid the groundwork for a US$1.2 billion deal between Microsoft and Lenovo Group, the largest PC maker in China and one of the top computer makers in the world following its purchase last year of IBM's PC line. The agreement calls for Lenovo to install Windows on millions of PCs sold both inside and outside China.
Such deals not only help curb piracy, but may help slow the growth of Linux as a desktop operating system. Linux is seen gaining traction in China because it can be installed on a PC at lower cost than a proprietary operating system.
They likely come at some cost to Microsoft in terms of profit margin, however, with the licenses probably being sold at a discount because of the quantity involved and the software maker's desire to establish a presence on Chinese desktops.
Big Deals
Microsoft seems to be setting aside any concerns about appearing to be too close to the Chinese government, a reflection of the size of the market opportunity that exists in China as well as Gates' stated philosophy that the influence of outside companies in China and expanded Web use will eventually lead to expanded human rights, freedom of expression and democracy.
"Microsoft has taken the approach that they can be an agent for change in China," Enderle Group Principal Analyst Rob Enderle told the E-Commerce Times. The company is likely to come under some fire for its dealings there, but Enderle noted that Microsoft has plenty of history in managing negative publicity and image issues.
Meanwhile, Hu is paving the way for a positive reception in Washington, D.C., where he'll meet with President Bush later this week. In addition to the contracts for Microsoft, Chinese companies also announced deals to buy more planes from Seattle-based Boeing, where Hu will pay a visit today.