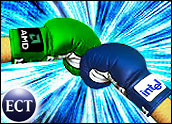 Advanced Micro Devices is asking Microsoft to turn over some internal records and preserve others as the number two PC chipmaker prepares for its civil antitrust suit against market leader Intel.
AMD is asking Microsoft for documents relating to internal discussions about AMD and its financial viability, especially around the decision to support 64-bit architecture from both AMD and Intel.
Caught in the Middle
It's also asking for documentation on Microsoft's work with standards, specs, protocols or software for secure input or output interfaces in a host of areas, including Trusted Computing, Next Generation Secure Computing Base, Intel Le Grande, AMD Presidio, PCI Sig and IEEE.
The subpoena includes a deadline of May 15 to turn over the information on AMD's financial state and any papers that compare AMD's chips to those from Intel based on price, quality, performance, availability or other factors.
The 10-page subpoena outlines a long list of documents AMD is seeking, including documents that deal with collaboration with AMD on building new products together or supporting AMD's marketing efforts.
Microsoft said it expected the move and couldn't rule out Intel making a similar request for documents. Microsoft noted it was not a party in the case and said it would cooperate with the request.
Not a Surprise?
AMD spokesperson Michael Silverman told the E-Commerce Times that Microsoft was on a lengthy list of firms the chipmaker said it might issue subpoenas to when it first announced its lawsuit against Intel.
"Yesterday's subpoena is the first sent to Microsoft for the production of documents," he said. "This is a routine subpoena much the same as the many other subpoenas that were served on other third parties."
AMD filed an antitrust suit against Intel last year, saying it had used its market position to coerce customers, especially PC makers, into buying its processors over those from AMD and others.
The chipmaker has said that some 38 companies, including PC makers, distributors, systems builders and electronics retailers had been harmed by Intel's market tactics.
The nature of the subpoena to Microsoft suggest AMD may be preparing to argue that Intel pushed some partners to support its 64-bit architecture alongside AMD's, which was on track to be earlier to market and was seen by many as being technologically superior, at least at the time.
Two Fronts
AMD previously issued a subpoena to peer-to-peer communications firm Skype, asking for information on how it arrived at an upgrade that gives only users of Intel-powered machines the ability to make conference calls with as many as 10 users.
Though the two sides are due in court this week, the AMD/Intel suit isn't expected to see trial until later this year at the earliest. Meanwhile, the two continue to battle in the marketplace, with AMD seen scoring some victories based on recent earnings and market share reports, though it still lags well behind its larger rival, which still has an 80 percent market share, according to research firm IDC.
Intel has long said that its size and its major investments each year in research and development are what have given it the lion's share of the market.
Intel's recent release of a batch of new chips, including those that could substantially boost the power and battery life of notebook computers are a reminder of that advantage, said Insight64 analyst Nathan Brookwood.
AMD is pulling closer to Intel in some areas, Brookwood added, including the mobile and server space and he noted that the two companies often target areas where the other is weak in bids for market share.
Others have commented that faster chips and lower prices in many parts of the processor market complicate AMD's ability to argue that consumers have been harmed by Intel's actions.