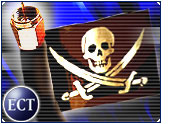 Microsoft (Nasdaq: MSFT) announced Thursday that it had taken legal action against two online Florida businesses for alleged distribution of counterfeit software.
One of the companies involved, Global Spider, Inc., which Microsoft believes also did business as Nico International LLC, allegedly distributed counterfeit software from a variety of Web addresses located in New Mexico, New Jersey and Florida.
The other company, New Media Computer Corp. of Fort Lauderdale, Florida, also maintained a Web presence, but customers were required to phone or fax their orders in, Microsoft said.
"We perceive Internet sales of counterfeit software as a burgeoning problem," Microsoft corporate attorney Mary Jo Schrade told the E-Commerce Times, adding that the trend has become serious enough for Microsoft to employ a separate unit to deal with Internet piracy.
Tough Penalties
Schrade said that Internet pirates could face millions of dollars in penalties for selling just one counterfeit copy of Microsoft Office, because the software involves multiple copyrights and trademarks.
She added that a single, intentional copyright violation could cost a violator a US$150,000 fine and that the willful violation of one trademark could carry a $1 million penalty.However, intellectual property attorneys agree that penalties in those ranges are rarely awarded.
Microsoft said that it decided to take action after receiving numerous complaints from users and other resellers alleging that the companies were selling counterfeit software. Schrade pointed out that resellers often complain if they notice a company selling software for a price that seems too good to be true because legitimate companies "can't make any money" when pirates are selling the product for a discount.
Microsoft Undercover
Test purchases made by Microsoft confirmed that the products being sold were counterfeit, the company said, and so it sent cease-and-desist letters warning the companies that they were violating Microsoft's copyrights and trademarks.
According to Microsoft, the companies failed to stop selling bogus software, so the software giant filed suit. Microsoft has asked the U.S. District Court for the Southern District of Florida to award it monetary damages and issue an injunction prohibiting the companies from selling pirated software.
If the companies continue to sell after an injunction has been issued, Schrade said they could face criminal penalties.
Not Your Corner Store
According to Schrade, unwitting customers who buy counterfeit products are left without technical support and often cannot get a refund from the vendor.
Schrade said that Internet pirates are a "bigger problem than a store in your neighborhood" because it is easier for them to defraud consumers. She said that in some instances, online pirates have shown consumers pictures of real software packages and then sent out disks with handwritten labels and photocopied manuals.
Piracy Crackdown
Microsoft and other high-tech firms have begun a concentrated crackdown on Internet pirates and others who sell consumers counterfeit versions of software.
In addition to the Florida cases, Microsoft also announced Thursday that it had been awarded a total of $162,000 in settlements and judgments stemming from legal actions the company has taken against four Minneapolis, Minnesota-area resellers for the alleged distribution of counterfeit software.
The software giant said it intends to donate the net proceeds of its judgment to nonprofit anti-piracy groups.
Auction Sales
In January, the Software & Information Industry Association (SIIA) filed lawsuits against two people who were allegedly selling pirated software to contacts made through online auction houses.
The SIIA settled with one alleged pirate, Julian Kish, in February. The settlement included a confidential payment for the unlawful distribution of software, a letter of public apology from Kish, and an order not to infringe copyright in the future.
The other defendant has not yet settled, and could be liable for up to $150,000 per violation, the association said.
The Business Software Association (BSA) estimates that the software industry loses $13 billion annually due to software piracy.