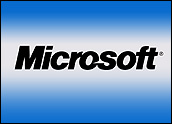 Microsoft has abandoned a plan that would have excluded rival media players from being included on devices that were outfitted with the Windows Media Player.
Microsoft had proposed that device makers that included a CD with the Windows Media Player with their devices not be allowed to include any competing software. In other words, devices that wanted to run the Windows Media Player would have to do so on an exclusive basis.
But after receiving a complaint and apparently aware that the Justice Department and the federal judge who signed off on the 2002 settlement with the department were watching closely, Microsoft rapidly changed the terms of its specifications for vendors to remove the exclusivity clause.
A memo informing the Justice Department of the proposal and the subsequent change was included in reams of documents turned over to a federal judge monitoring compliance by Microsoft with the terms of its anti-trust settlement with the U.S. government. In it, the Justice Department said it felt the situation had essentially resolved itself and required no additional enforcement action.
"While it is unfortunate that the draft specification contained the exclusivity provision, Microsoft took quick steps to correct this error and Plaintiffs do not believe any further action is required," the department wrote.
Making Progress
Overall, the documents show, the Justice Department believes some 350 specific technical documentation issues remain with respect to compliance with the settlement's requirement that Microsoft share more information about the technical requirements and protocols of its products. That requirement was part of a sweeping November, 2002 settlement that put to rest anti-trust actions by the federal government and forestalled a push by some in the agency to have Microsoft split into more than one company.
The documents also show that the number of companies entering into agreements with Microsoft to access protocols and other technical information needed to build compatible software is slowing. Some 23 companies have licensed the protocols, but none have signed up in the past five months. A dozen companies are now shipping products that use those protocols.
It's a bit of a surprise to observers that Microsoft continues to chafe against the restrictions in the agreement.
"The marketplace has changed already since the agreement was put in place and new technologies are emerging all the time," said Enderle Group Principal Analyst Rob Enderle.
While Microsoft would like to be able to put the anti-trust case to rest once and for all, it is also finding the competitive marketplace increasingly difficult to navigate. "Microsoft faces more competitive threats than it did when it went through the anti-trust process," Enderle added.
Facing the Music
Apple iPod and in online music against market-leader Apple iTunes, among a host of others.
It is also equally important for video-capable portable devices and those that allow interactive gaming, expected to be two strong growth areas as more devices enable high-speed connections wirelessly to the Internet.
Microsoft has invested heavily in research and development and marketing in an attempt to help put Windows-based PCs at the center of the new digital homes, with a heavy emphasis on the entertainment capabilities of its software. But that market has turned out to have few clear early winners beyond Apple's toehold in digital music, which many analysts believe is itself only a temporary situation.
Elsewhere in the compliance report, Microsoft was given high marks for meeting service level goals for fixing problems with documentation when they are identified. The two sides agreed over the summer that Microsoft would fix high-priority problems within seven days, medium-priority problems within 17 days and low-priority problems within 32 days. Microsoft was also said to have begun work addressing the remaining technical issues.